For many brands and marketers, 2018 was a tumultuous year on social as deterioration of trust and slowdown of organic reach forced marketers to dive deeper into paid strategies.
When looking beyond the vanity metrics (reach and impressions), paid and organic branded content on social is performing at an all time-low compared to content from influencers and users.
Consumers don't trust brands. Think of how the food industry has been shaken to it's core, forced to re-brand itself due to consumers demanding healthier alternatives. The same is happening with brands in almost all industries.
As marketers, our job is to help brands convey a story that resonates with their target audience.
An Era of Deteriorating Trust
Consumers are becoming much more astute about news, media and advertising. A study carried out by 4AS surveyed consumers to determine what professions they trusted most.
Unsurprisingly, the respondents ranked advertisers and marketers as the profession with the least integrity.
In other words, only a tiny percentage of people trust advertisers and marketers.
Results from study done by 4As
Is Advertising Inherently about Lying?
For as long as advertising has existed, the main aim of the marketer has been to build a story around a product that resonates with a specific audience in order to convince them to buy it.
The father of propaganda, Edward Barneys, was also a brilliant marketer. In the marketing world, he was the first to understand that you have to appeal to people's emotions, you have to appeal to their subconscious so that nobody thinks that you're selling anything to them.
Marketing isn't inherently about lying or tricking consumers into buying a product, but it does involve some level of manipulation or convincing. This isn't a bad thing in itself as, ultimately, that is the point of marketing.
However, ever since the widespread use of the internet, consumers have a lot more choice in the content they consume and where they direct their attention. The internet changed the marketing game as consumers now have more control.
Traditional marketing is largely dead, and companies need to adapt to the new landscape in order to keep up with changing times.
2 Strategies that you can Deploy to Build an Audience that Trusts and Engages with your Brand
1. Utilize User-Generated Content (UGC)
Consumers love content from people they can relate and connect to. By using UGC, they'll begin to connect with your brand.
UGC isn't a new concept, yet it seems marketers are only starting to realize it's potential in creating online buzz.
UGC isn't only brilliant because you can leverage free content and build trust with your audience, it actually increases brand engagement and helps build a community.
You might be worried that the content your users create isn't of high enough quality to make public on the social media platforms your business engages with – rest assured, it's raw from real people that your audience wants to see. That being said, you probably won't be able to use all of it, but you'll be able to gauge what you can and can't use.
2. Leverage Content from Micro-Influencers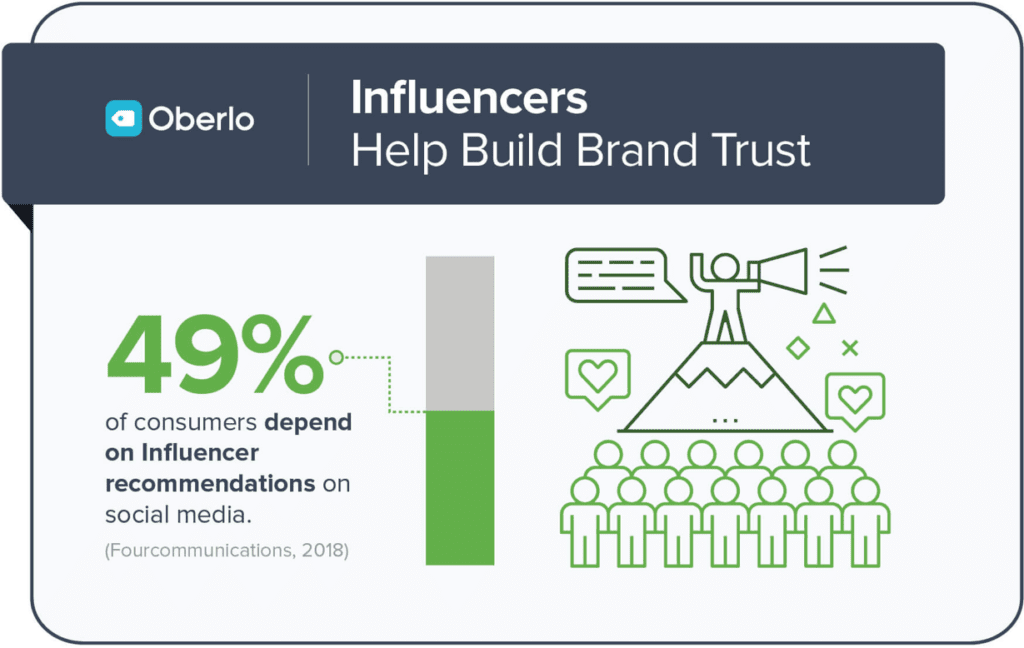 You might not be aware of the difference between a micro and a mega influencer but there aren't any strict definitions. A micro-influencer is simply someone who has a small following on social media, while a mega influencer is usually a celebrity.
If you have the budget, you might consider working with mega influencers, although they are expensive. Working with micro-influencers opposed to larger influencers (apart from budget) is beneficial because they usually have the time and enthusiasm to commit to a longer program of content.
Additionally, although micro-influencers have smaller audiences, their audience is usually more engaged. This can bring you a higher ROI
If you choose to work with a micro-influencer, allow them full creative freedom over the content they create. This is a more organic approach that allows for the creation of authentic content. Authenticity is key in building trust with your audience.
Build a Community
In order to build a brand, you need to create a community – a tribe. A group of people that trust you and engage with your product. Adopt a collaborative approach towards content creation and work with your community – your customers & influencers.
Now that consumers are in control of the content they consume, traditional marketing methods are dying out. You can no longer aggressively push for the sell. Build trust and you will see better results.