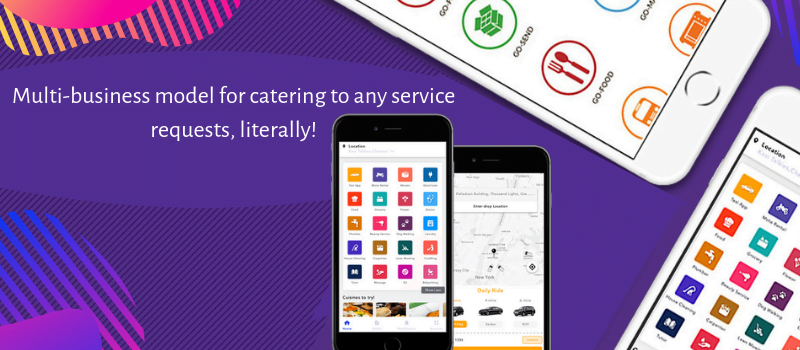 Let's imagine; Maria is a mother and a manager. Maria has a five-year-old daughter who requires constant attention after pre-school. On a Sunday, Maria is informed of a crucial meeting at work. But what about her daughter? Maria calls all the locally known childcare services; however, all of them are booked (being a Sunday of course).
Now, this relatable scenario paints the question, What should Maria do? Wait for a babysitter or take her daughter to work? I would say neither. Before you guys say "that is evil," I'd suggest option three, call an on-demand babysitter.
How is that even possible?
Well, it's quite easy. Using a multi-service app like Gojek, Maria could get Sharon (registered babysitter) at her house in less than thirty minutes. And guess what? Maria's daughter cannot stop laughing at Sharon's finger puppet shows. Sharon is one among the million experts ready to assist any service request in real-time.
What sort of requests?
Don't get any vague ideas, requests such as fixing a leaking pipe, walking a dog, makeup before a party, food delivery for Monday night football, and other real-time service requests. Experts such as plumbers, dog-walkers, makeup artists, food delivery executives, and others are ready on-call via an app.
What is that app?
There is a unique multi-services app that caters to any real-time requests faced by mothers, fathers, parents, teachers, teenagers, grandparents, and others (yes even kids, assuming they can access the app post their parent's approval). It's quite simple, sign-up with your credentials (email & number) or logs indirectly via your social media account (Facebook, Instagram or others), turn-on your location, choose your service, enter the destination, pay and fire away.
This smart app will match you with the nearest service expert, and they will arrive at your doorstep within a short period. You can even customize services such as time of availability, payment option, additional instructions, and others.
Is it a lucrative business?
Indeed it is. The market leader officially became a unicorn (a tech startup company reaching $1 billion market value) within 1.5 years of launching its mobile application on leading platforms.
Ok, I'm interested, how to get started?
It's easy; all you need is a fantastic app that connects service seekers with service providers. Or simply, a Gojek clone. Powered with robust features and seamless functionalities, you can expect almost an instant surge in your user base.
What sort of features should be part of the app?
Innovative features make an app stand out from the herd. To run a successful on-demand business, you require a customer app, an app for the service providers, and an admin panel for your business. Let's check out the critical features:
Social media login
Instant & Scheduled booking
Booking history
Service search & filter
Saved address
Multi-payment gateway
Live tracking
Rate card
Estimated time of arrival
Ratings & Reviews
Notifications
In-app messaging
Availability toggle
Analytics and much more
Who to entrust with developing an app for my business?
Well, developing an app from scratch could end up a nightmare for your business. However, apps developed from a Gojek clone script can save you on both cost and time. You can get in touch with experts from AppDupe. The company has made incredible headway in building and delivering on-demand apps for almost any business requirements. The time is lucrative, and I'd recommend you get started right away. God-speed.