"Oh, lord! I deleted some really important emails and didn't notice it until now!!!!!! How can I ever get back those permanently deleted emails?"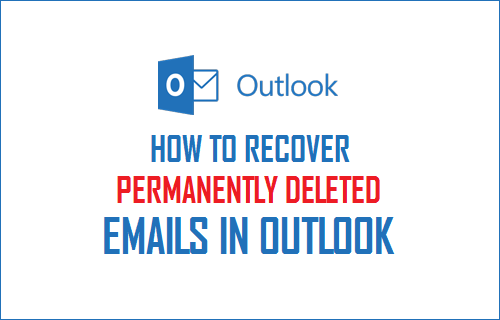 This is quite a common scenario for Outlook users. Whether its accidental deletion of data or intentional removal of emails, if the deleted data is important, you will facepalm yourselves until the data is back.
The good thing about living in this technologically advanced world is that there is no 'absolute' in anything. Even if your data is deleted, you can get them back one way or another. This write-up is divided into 3 parts that cover the entirety of methods to help you get back permanently deleted emails from Outlook. Keep a clear mind and read the article thoroughly.
Recover Deleted Outlook Emails
In case you recently deleted the emails, you can rejoice as when emails are deleted in Outlook, they end up in the Deleted items folder. And stay there until they are deleted permanently after a particular time period. Many users get confused between normal and permanent deletion of emails and neglect the deleted items folder. However, it never hurts to take a look in there as it will stop your searching right there. Wondering how can you get back deleted emails? Simply click on the Deleted Items folder and look for the emails that you think you removed permanently. Right-click on it and choose Move option to move it to your preferred mailbox. Once the emails are moved, you can view them in the moved folder.
Recover Permanently Deleted Outlook Emails
In case, the data is not present in the Deleted Items folder, we have another alternative. Simply follow the steps given below:
Go to the top menu and click on the Folder tab. Here, select the Recover Deleted Items option.
Now, simply click on the relevant deleted emails and select the Recover button (second icon) on the top left of the window.
Outlook will start recovering the emails for you. Once they are recovered, simply check the Deleted Items folder for the emails. Now, right-click and move the emails to your preferred mailbox.
How Can You Get Back Permanently Deleted Emails from Outlook if Nothing Works?
If none of the manual methods works, you can try using the Outlook PST Repair tool. It's advanced capabilities to repair PST files makes it The Choice among Outlook users. This tool has got its name proudly placed in the top email recovery software. It simplifies the complete recovery process allowing you to easily recover your permanently deleted emails from Outlook into multiple formats – PST, EML, MSG, PDF, etc. It provides speedy recovery and previews all the mailbox items of Outlook in its interface. Moreover, it highlights the deleted emails in red color. You can choose the emails that you want to recover or simply export the entire database to a healthy PST file. The software has many advanced options that will help you recover emails from MS Outlook easily.
Other than emails, this method will also recover other mailbox items from Outlook. Below is a list of items that are recoverable via this tool:
Emails,
Contacts,
Calendars,
Tasks,
Notes,
Journals.
Guide to Get Back Permanently Deleted Emails from Outlook:
Download and Run the PST repair tool on your PC.
Add the Outlook PST files in which you deleted the emails.
Preview all the emails along with deleted messages that are highlighted in red color.
Set the advanced settings such as date filters, split pst, etc.
Export the data in a healthy PST file with all the recovered emails.
Conclusion
Microsoft Outlook has a vast variety of features and functionalities that make it the most popular desktop email client currently. Hence millions of users utilize Outlook for their daily communication and email needs. But there are some things that are not in the scope of the email client and are only liable to its users. For example, the deletion of important data in Outlook.
If you have accidentally removed some important data in Outlook and are searching "Can you get back permanently deleted emails from Outlook" or similar queries, this write-up is for you. Here, we discussed the best methods to recover deleted emails manually. If the manual solutions did not work for you, then you need a tool that can get back your data, And that is where the Outlook PST Repair tool comes in handy.
Related Articles