Using visuals contents in your web marketing strategies appropriately means that you can leverage the reader's emotions, perhaps convert it into a customer better.
You are not a professional graphic designer and maybe you do not have a budget to spend on making images for your blog, your social pages, your business cards and more.
However, on the web, there are dozens of free or paid tools that can help you create eye-catching graphics effortlessly and intuitively.
Today this post will show you one of the best online applications for the realization of your graphic projects. It is dead-easy to use with its intuitive interface and lots of editors at your disposal.
What is DesignCap?
If you are not familiar with Photoshop (software specialized in photo processing and, more generally, digital images), DesignCap is the right resource for you. It is a powerful online graphic editor where you can create images for all your needs without having to be an expert graphic designer. No design skills or sophisticated software are required.
What can you do with DesignCap?
Whether you need an Instagram post, Facebook covers, create a logo, an invitation, a poster, a banner or the header of your email with DesignCap, you can do it in a way simple and professional.
You can create images for your Social Media Post
Facebook post
Instagram post
Pinterest Graphics
You can create artwork for your Social Media Header
YouTube Channel Art
Facebook Cover
YouTubeThumbnail
-Twitter Header
Tumblr Banner
-Email Header
You can create graphics for Marketing and Events
Infographic
Poster
Flyer
Logo
Business Card
Brochure
Facebook Ad
Leaderboard
Menu
Invitation
Card
How does DesignCap work?
DesignCap registration
You can play this program without registration, but if you want to save or download your artworks, then it will require you to have a DesignCap account. Thought the setting of no registration need seem useless, but it would be quite reasonable if you do not want to log your email before using this tool. There are several ways to register your account. You can sign up with your Facebook/ Google account. Also, you can sign your Email up.
Once you have registered your DesignCap account, then you would see templates for each type of graphic project. As said, you will have the possibility to create anything. DesignCap offers hundreds of templates already pre-formatted in the right size and ready to be modified by you. It also allows you to customize the canvas according to your needs.
Now, this post is going to introduce you to how to create your own graphic for a Facebook post.
As mention before, there are various demission templates. As we are going to make a Facebook post, so we can use its Facebook Post, a template already optimized for the platform, with the optimal size 940px X768 px.
Let's select it with the mouse. Well, we are finally in the DesignCap editing window. At the center of the screen, you have your blank canvas, so you can insert photos and texts. In the left bar, we have our control panel to customize.
You might also like to read DesignCap Review: Design a Poster Without Difficulty
Setting
After landing its setting, you would find there are three functions for you to change the language or submit your feedback or resort help from the DesignCap team.
Template
Selected Facebook Post templates from the template tab, DsignCap provides you with dozens of templates that you can modify at your will, a great place to have examples and ideas for your post design. Some of the elements are free to use, others for pay plans account.
Graphic
Hundreds of graphic elements, illustrations, graphic icons ready to be included in your project. A handy resource, you will really save a lot of time in your creation. As with the template, many of these items are free and others for a subscription fee.
Photo
You can search for photos useful for your project. And some are free, and others are exclusive for premium users. Also, you can browse its categories to find one.
Upload
Do you already have images or graphics to add to your project? Well, you can upload your items from your PC directly and apply them to the canvas. The item will be uploaded and will be available immediately.
Text
Now we come to the text elements, DesignCap puts you pre-formatted fonts. So you can click the heading, subheading, and body text to add and select the font. Hundreds of examples and fonts will allow you to integrate the good writing for your graphics.
Background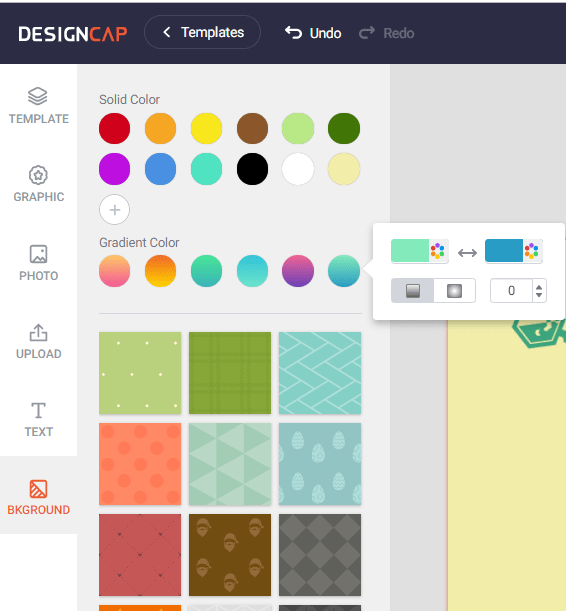 If you need a background for your graphics, then you will have the possibility to insert colors or textures ready for use.
Let's put the background for our Canvas. Let's put the background for our Canvas. We can set the background to yellow. Let's add some icons in the graphic tab. Drag or click graphics elements with the mouse Inside our sheet and prepare to insert the text.
Graphic elements editors:

Undo/Redo: You can undo the unnecessary operation or you can redo it.
Duplicate: you can copy of the graphic element
Layer: you can place the selected element on various levels, you can put it in the forward or at the bottom.
Opacity: To change the element transparency.
Delete: you can delete all selected items.
Flip modifies your image with the mirror transformation both vertically and horizontally.
Font editors:
Fonts: You can select hundreds of fonts for your text.
Font size: Decide its magnitude in px.
Color: To change the font color as you like.
Font type: It is not possible for all the fonts to render letters in bold. The same goes for an italic identical thing of the bold option.
Alignment: Alignment text right / left / center
All Upper Case selecting the text will immediately make it all uppercase.
Share, save and download
You can share your works directly on your favorite social media, including Twitter, Pinterest, and Tumblr, save or download your design on your device.
Upgrade DesignCap Pro
All that this post has shown you so far is in the free version, if you need more storage space, more tools, and professional graphics, you can subscribe basic plan to an annual subscription for $4.99 per month. Or you can subscribe plus plan to a yearly subscription for $5.99 per month.
Here you learn what differences between DesignCap plans.
Wrap up
DesignCap is one of the best online graphic tools. In my opinion, It is undoubtedly a point of reference if you need to create graphics for your online projects without too many preparations.
The amount of free templates and design elements available and the ease of use allows you to have a powerful tool for your business.
The ability to load your graphic elements like your logo, your images gives you endless possibilities for creation.
The already pre-formatted layouts are optimal for those with little graphic experience and are looking for an easy and creative tool.