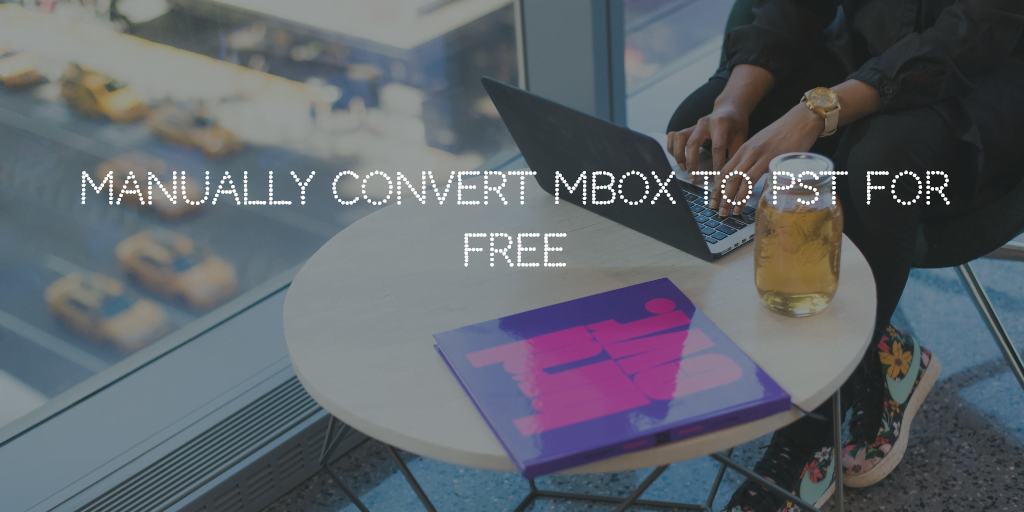 "Get access to the prime methods necessary for the conversion of *.mbox file into Outlook data format. Through this article, we will help users to find the complete stepwise procedure to convert MBOX to PST manually."
Email applications have become a necessity for both personal and professional growth around the globe. And most of the popular email clients save their data in MBOX file format making it the most common among its counterparts. Thunderbird, Apple Mail, Eudora, etc. constitute a family of around 20+ email applications that use this file format. On the other hand, Outlook has been dominating this email arena for a long time now and it saves its data in PST format. So for users shifting towards Outlook evergrowing community, how to convert MBOX to PST with manual methods is an evergreen query.
So, with the help of this article, let us know the proper procedure required to perform this task without many complexities.
Expert Solution for MBOX to PST Conversion
Before starting with the stepwise guide, users must understand that there is NO DIRECT solution to this query. Yes, you can convert MBOX to PST manually, but it will take a huge bulk of your time with chances of failure. In order to avoid all that, just import MBOX to Outlook using automated software. Run it on any Windows system and perform direct conversion hassle-free. Download and check out its free demo version now.
How to Convert MBOX to PST Manually
What we have described below is the most effective method required to perform manual conversion of MBOX file data into PST file format for Outlook. The whole procedure is divided into 4 different parts which require the involvement of Apple Mail, Eudora, Outlook Express and finally MS Outlook.
Note: Follow each step carefully for successful conversion.
Step #1: Import the MBOX file into Apple Mail application
Launch Apple Mail.
Choose File >> Import option.
Select the location where you want to import the file.
Click on the Continue button.
Now locate MBOX file and go to Choose>> Continue.
Once the process is completed, click the Finish button.
Now, drag and drop the imported mailbox folder from Apple Mail onto your desktop to create a different MBOX file.
Note: We are performing this task because some email clients like Thunderbird creates MBOX files without extensions. By importing the file in Apple Mail, we ensure that *.mbox file extension is added to it. This is necessary for the execution of the next procedure.
Step #2: Use Eudora to Create Mailbox
First of all, rename the MBOX file created above to Eudora supported .mbx format. Eg: xyz.mbox to xyz.mbx
Now, move this edited file to Eudora directory: Default location – C:Documents and SettingsApplication DataQualcommEudora
Now, just open Eudora, double-click on the .mbx mailbox to refresh its content in Eudora
Afterward, close the application.
Step #3: Outlook Express to Import from Eudora
Run Outlook Express application.
Next, click on File ->Import ->Messages.
Select Eudora from the list and hit the Next button.
Now, browse the .mbx file and hit Ok.
Finally, proceed with clicking Next-> Next-> Finish.
Note: View the Imported mailbox in Local Folders.
Step #4: Move Outlook Express Mailbox Data to MS Outlook
Launch the MS Outlook application.
Then, select File->Import and Export.
Choose Import from another program or file-> Next.
Now, select the Outlook Express 4.x,5.x,6.x or Windows Mail-> Next.
Now click on Import button to start the process
Once it ends, you will have all your MBOX data within Outlook.
Note: If you specifically want the PST file, just export it from MS Outlook by selecting Export to a file in the above-described step instead of import from another program or file.
Wrapping Up
Shifting from different email clients to Outlook is an exponentially growing process right now. And since Mbox is the most common format, users always look to convert MBOX to PST manually. The procedure if followed carefully will generate the required results. But since it is inadvertently complex and studded with limitations, a much better software alternative is also suggested.