It is impossible for everyone's career to be a designer, but everyone needs to do more or less the work associated with the design in their work. Photoshop is good, but the cost of learning may be a bit high, installed in the computer can not be used a few times also occupy valuable storage space. So is there any solution to complete the design task easily and effortlessly? The answer is yes. I recommend that you use an online tool called DesignCap.
DesignCap's operation is very simple, basically no learning, most of the operations can be done with the mouse.
Select a template
The advantage of DesignCap is that it has a lot of high-quality templates built in, and all of them are free. After we click the Make a free poster button, we will see various template options. There are various presets for promotion, music, sport, festival, etc. Find one you like and you can go to the editing page.
Personalize the template
DesignCap is possible to upload the image material needed for the design with a click. It also allows users to search for photos from the picture library.
The text section provides a variety of fonts. You can enter the text in the input box, the right side can adjust the color transparency, projection, internal margins, borders, etc.
In terms of clipart you can choose from a wide range of clipart and customize it by dragging and dropping. The functions above the editing area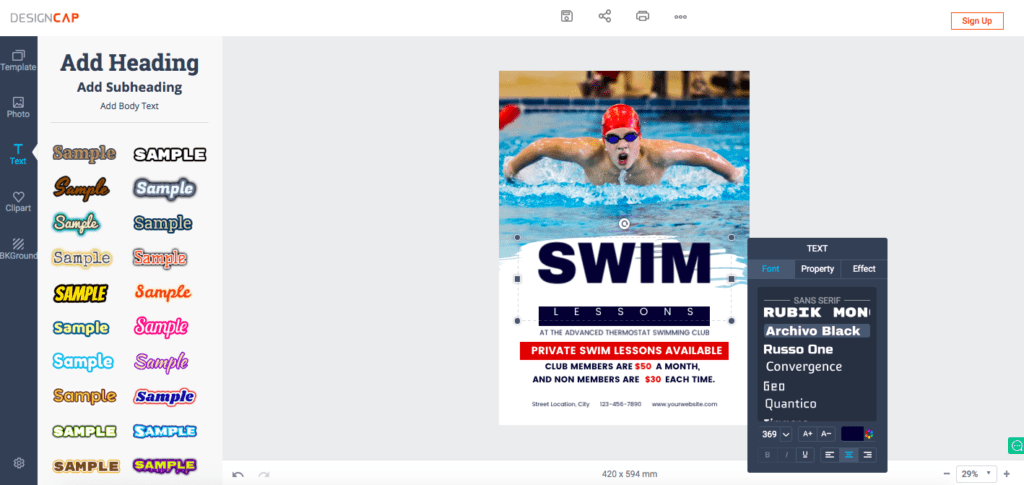 are more specific, such as filter adjustment, crop rotation, transparency adjustment, color modification, and so on.
You can set the solid color background, gradient color background, and texture pattern background. The click operation modes require only one step, which is very simple.
Those features that you think are only available in Photoshop are also available in the DesignCap design. And all versatile functions are not complicated, you can know what it does if you try.
Save & share your design
After the design process is finished, you can download the result in JPG or PNG format through "Save" in the upper right corner. At the same time, you can also choose the size of the exported image to ensure the clarity of the image. What's more, you can share directly to your favorite social media
accounts, including Facebook, Twitter, Interest, etc.
DesignCap is an easy-to-use online tool that can help you express your ideas quickly. This tool is also ideal for people who have never studied design. The templates it provides help you to make a work that looks good. If you find an interest in design from this tool, try to do more work. This tool can be used in a computer browser, does not occupy the local space, easyto-use and free-of-charge.
Repeat the URL again https://www.designcap.com. You can use it when you open it in your computer browser.