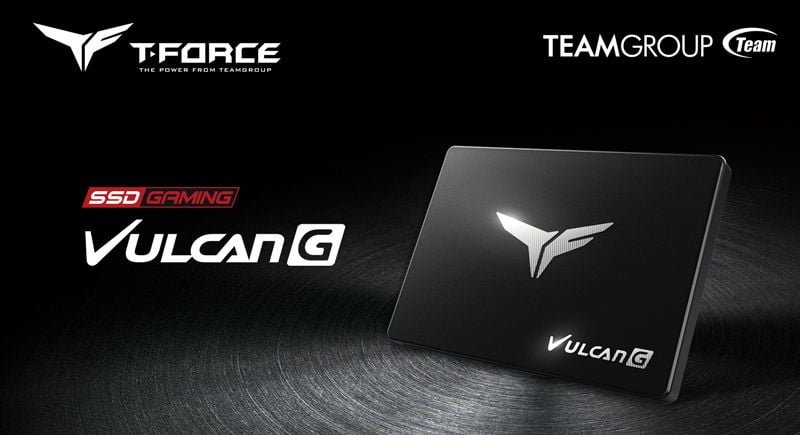 TEAMGROUP announces the T-FORCE VULCAN G, a Gaming SSD. With the SATA interface and 3D NAND flash memory, the read and write speeds can reach up to 550MB/s and 500MB/s, which offers 4 times faster read/write speed than traditional hard drives. It also supports SLC caching and Windows TRIM optimization commands, making it the best choice for upgrading your gaming PC!
The T-FORCE VULCAN G Gaming Solid State Drive has a minimalist design. The T-FORCE logo is printed with a unique diamond-cut pattern for a sophisticated and sleek look. It is also available in capacities of 512GB and 1TB and uses the SATA interface and 3D NAND flash memory chip, making it 4 times faster than traditional hard drives in reading and write speeds. With up to 550MB/s and 500MB/s, gamers will experience a significant performance jump.
T-FORCE VULCAN G SSD supports SLC caching algorithm, S.M.A.R.T. monitoring technology, and Windows TRIM optimization command, which not only improves the read/write speed, buts also stabilizes the system operation with smart monitoring. The built-in Error Correction Code and Wear-Leveling technology prolongs the service life of SSD and improve the reliability of data transfer, allowing gamers to easily upgrade and enjoy the performance upgrade!
Read more about https://www.teamgroupinc.com/en/product/vulcan-g-ssd
About TEAMGROUP
As a leading provider of memory storage products and mobile applications to the consumer market, Team Group Inc .is committed to providing the best storage, multimedia, and data sharing solutions. All TEAMGROUP's memory module products come with a lifetime warranty, repair, and replacement services. Team Group Inc . also listed company at the stock exchange market in January 2019. In 2016, TEAMGROUP established T-FORCE gaming series which including all the gaming memory modules. For more information, please visit the TEAMGROUP website at www.teamgroupinc.com or Follow our social media including Facebook: www.facebook.com/teamgroupinc /Twitter: https://twitter.com/teamgroupinc Instagram: https://www.instagram.com/teamgroupinc
Related Articles
TEAMGROUP Releases new T-FORCE Gaming Products: Gaming Memory Dark Z & DELTA MAX RGB SSD Are Here with Full Force
RGB Solid State Drive and M.2 PCIe Solid State Drive with ASUS TUF Gaming Alliance announced by TEAMGROUP
Team Group Releases T-FORCE CARDEA II M.2 Solid State Drive & PD400 Portable Solid State Drive