Duplicate photos are very annoying and also consume a substantial part of the precious storage space. There are several reasons behind the duplicate photos like downloading the same photo again, taking a backup of the same image several times, and multiple downloads of the same photos. We often ignore the duplicate files and that is why it keeps increasing and consumes a huge amount of disk space. Due to the access of duplicate photos, our system starts working slowly.
It occupies a large amount of storage space and due to this we also face storage running out issues. Getting rid of duplicate photos is quite a difficult task but don't worry we are here with a solution that could help you in Fixing the duplicate photos issue.
If you manually search for duplicate photos it will be a total mess and you won't be able to detect all the duplicate photos stored on your PC. It takes a lot of time and is not a very effective method. So, despite searching manually for identical images, choose the best software that can scan for similar-looking images accurately without consuming a lot of your time.
5 Ways to Fix Duplicate Photos Issues
In this article, we will discuss the methods through which you can fix duplicate photos issues in Windows 10.
Method 1: Delete Duplicate Photos through Windows Photo App
Windows 10 has a Windows Photo app that is packed with many features and also allows you to delete duplicate photos. Let's know about the steps you need to follow to fix duplicate photos issues using Windows Photo App.
Firstly, open the Microsoft photos app and click on the folder you want to check for duplicate photos.
Now, search for the duplicate photo throughout the page and when you find any of the identical images right-click on them click on the delete option.
There are two options to choose one you can delete permanently or you can send the photo to the recycle bin. To delete it permanently Press the shift + delete button on the keyboard.
If you find a large number of duplicate photos then you can remove them all. Press the ctrl key on the keyboard and choose every duplicate photo. Once you have selected all the photos you can choose between sending them to the recycle bin or deleting them permanently.
If you are having a Windows 10 PC you can choose this tool as it is very effective and you can easily fix duplicate photos issues without installing any third-party tool.
Method 2: Delete Duplicate Photos Using Software
Deleting Duplicate photos using the Windows photo app is simple and effective if the number of duplicate images is less but if the number is high then there is no right way to delete duplicate photos. In this situation, you need to choose the free duplicate photo cleaner tool. It is more effective when it comes to deleting a large number of identical images. It is quite difficult to choose the best duplicate image cleaner tool but don't worry we are here to help you.
Here we have listed the top 5 software that will help you to fix the Duplicate photos issue.
1. Easy Duplicate Finder
Easy Duplicate Finder is one of the best software that can quickly scan for duplicate photos stored on your PC. It uses smart algorithms to detect duplicate photos whether they are resized, cropped, rotated, or edited. The software also offers you a feature of preview so that whenever you want to delete a photo you can see the review and choose manually which photo you want to delete. It prevents you from deleting the mistaken photo. You can also move, rename and delete the image. It supports multiple image formats like JPEG, GIF, TIFF, JPG, RAW, and many more. It is the best way to get rid of duplicate images, free up precious storage space and make your system work smoothly and faster.
2. Duplicate Cleaner
Duplicate cleaner is one of the popular duplicate photo cleaner software that uses smart visual comparison techniques to scan for identical images even if you have cropped, resized, rotated, filtered, or done other editing. It helps you to recover a large amount of disk space and lets your PC run smoother and faster. It also has a built-in image browser for better management of photo files. It maintains a fingerprint of scanned images to provide you with quick and effective results. Using this software you can detect all the similar-looking files other than duplicate photos.
3. Ashisoft Duplicate Photo Finder
Ashisoft Duplicate photo Finder software helps you in identifying similar-looking photos even if you have rotated, cropped, resized, flipped, or did another editing. You can mark files based on groups, dates, folders, etc. using its selection assistant tool. It also has a built-in image viewer feature that lets you view photos in groups for a better comparison of identical images. The software is easy to use and requires a few clicks to deeply scan for duplicate images so that not a similar single photo can remain on your PC. It helps you in recovering a lot of disk space and also boosts your system performance.
4. Duplicate Photos Fixer Pro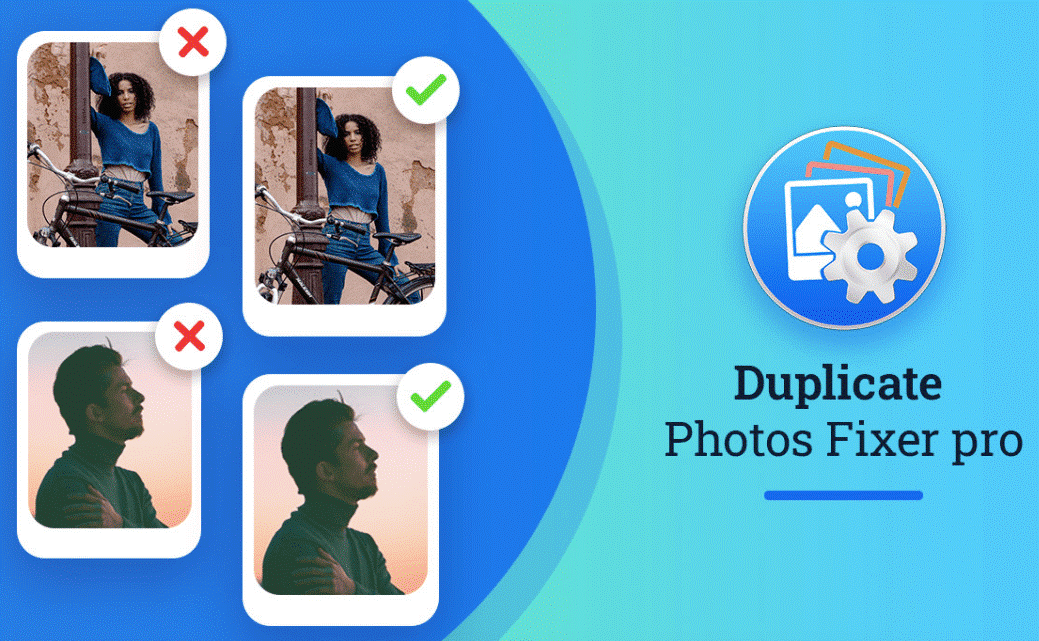 Duplicate photos fixer Pro is one of the powerful and effective tools that can quickly scan for the duplicate in your system. It uses a smart algorithm for deeply scanning identical files. The software helps you in keeping your photo library clutter-free and organized. It finds all the similar-looking photos in groups for better management.
Apart from windows it also works on other platforms like Mac, Android, And iOS. The software helps in recovering the lost disk space and boosts your system performance to work more efficiently. Duplicate photo fixer pro fixes the issue caused by the access of duplicate photos in your system.
5. Tenorshare Duplicate File Deleter
Tenorshare Duplicate File Deleter helps you in deleting duplicate files quickly and easily. It can scan duplicate photos accurately. It supports all the photo file types and it can also scan external storage devices. The software is easy to use and has a user-friendly interface. It uses a smart algorithm that lets you compare file names and content to search for identical images. Using this software you can free up the disk space by removing the unwanted duplicate photos and boosts your PC performance to run smoother.
Conclusion
If you are facing issues related to the storage space which is filled due to the duplicate files then you can use any of the above methods to get rid of the duplicate photos. After using these methods your PC will become organized and clutter-free. It will also run smoother and faster than before. I hope this article will help you to free up disk space.