Running a data center efficiently means providing high performance at most reliable bandwidth to ensure maximum uptime. In the quest of doing so, a data center needs to be compliant to expandability without any server downtime. Even a second of server loss can result in the loss of millions of company revenues. This is especially the main reason why most companies are opting for pre-terminated cabling systems instead of going for manual field terminations.
This article shall shine some light on what pre-terminated network cables are, the advantages of them, types of pre-terminated cables, and things to consider while ordering.
What are pre-terminated cables?
In order to build a robust data center, it is important for the connection between the different servers and the end-user device should be reliable and sustainable. Wireless connections have the disadvantages of dead zones and low signal strength, so it is important to use ethernet cables to make the connections. Earlier, ethernet cables needed to be prepared by a network technician onsite using a spool of the cable, 8P8C modular connectors on both ends of the cable that was cut as per the distance to be converted. Such methods to create a LAN cable is termed as manual field termination.
Pre-terminated cables are the same cables prepared in a manufacturers' facility and sent to the end-user after rigid testing. Unlike the cables from manual field termination, the pre-terminated cables are properly polished, the entire cable assembly is tested on both ends, and is qualified to be plug and play in the network. This is especially helpful when your data center increases in number, as well as the size, and you need to implement proper cable management.
Advantages of pre-terminated cables
The core advantage of pre-terminated cables is modularity. For an office with an open space concept, the pre-terminated cables allow quick reconfigurations such as additions or changes within the workspace. Additionally, you can avoid the hassle of storing the unused cable, cleaning of connector scrap and the need for tools for field installations such as crimping tool, tester. In amidst all the benefits lies a couple of shortcomings faced when using pre-terminated cables. Following are some of the benefits as well as the disadvantages.
Pros:
Time-Saving: Since the cables are made of measured length, you eliminate the need to terminate the length and save time in preparing the cable. Moreover, these cables are pre-tested, so you don't need to spend additionally testing all the cables. Since the cable routes are well defined, the cables are ready to plug and play.
Cost Saving: By eliminating any termination rework and pre-testing the cable eliminates transmission testing as well as the need for termination equipment and other consumables. Additionally, the cables are ready to plug and play, you eliminate the need for extra on-site network engineers, and the existing engineers can focus on the assemblies instead, shaving off a huge chunk from labor bill.
Less Wastage: Since the cables are pre-terminated, you don't need to worry about the disposal of the wastages from the field terminations. Additionally, you don't have to deal with the packaging waste from individual components.
Faster Deployments: Owing to the above-stated reasons, the deployment rate is significantly higher than manual termination methods. Once the forefront planning is done about the cable lengths and number of terminals, project completion is a matter of a couple of days.
Proven Performance & Reliability: Since all the pre-terminated cables are mandated to be produced in a clean room and go through a series of tests & inspections, what you get is a no-compromise network. Also, pre-terminated cables are tested for specific insertion loss/return loss thresholds.
Warranty: When manually terminated, the cables are prone to human error but pre-terminated cables go through multiple checks before being deployed as well as limited time warranty. So you can remain relieved about your data center remaining reliable.
Cons:
Accuracy is crucial: Since pre-terminated cables are created as per measurement, accuracy is crucial. Any mismatch may result in wastage of the cable.
Requires load of upfront planning: As above stated, the measurement is crucial for pre-terminated cables. Additionally, since much of the modularity is lost with structural changes, you need to take into account both current and future requirements.
No on-site flexibility: Nobody is perfect but a human error can spell disaster as you cannot make any alterations to cables on-site. The entire unit needs to be created again from scratch.
Types of pre-terminated cables
MTP/MPO Pre-Terminated Cables
MPO (Multi-Fiber Push-Out developed by NTT) and MTP (Multi-Fiber Push-Out developed by US Connect) are optical fiber connector standards and the cable supporting them can bring together 8, 12 or 24 fibers in a single interface. There are pins at the male connector for correct alignment with the female connectors.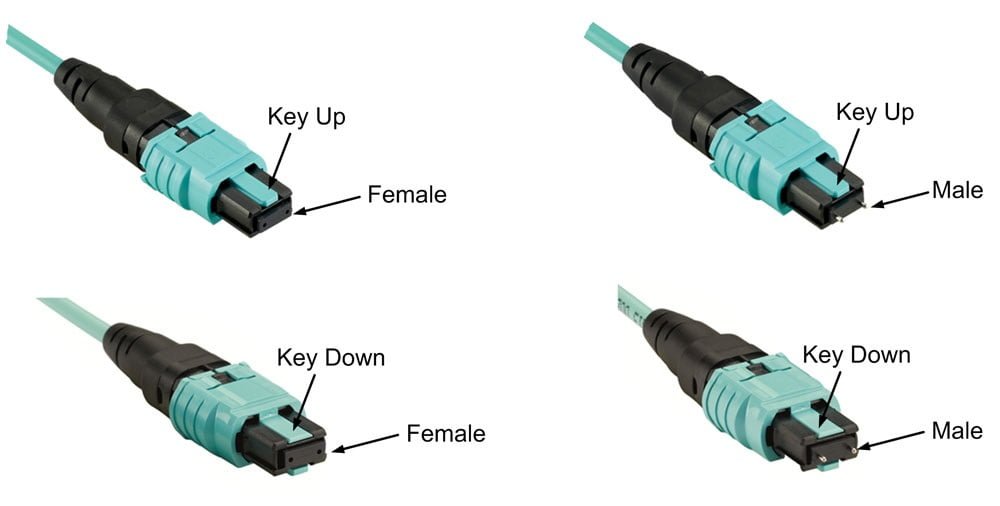 The additional 'Key' decides the connection type i.e. (1) Key Up to Key Down or (2) Key Up to Key Up
Trunk cables are a bunch of 12, 24, 48 and 72 fibers bound together. Harness cables bestow a shift from multi-fiber cables to individual fibers or duplex connectors.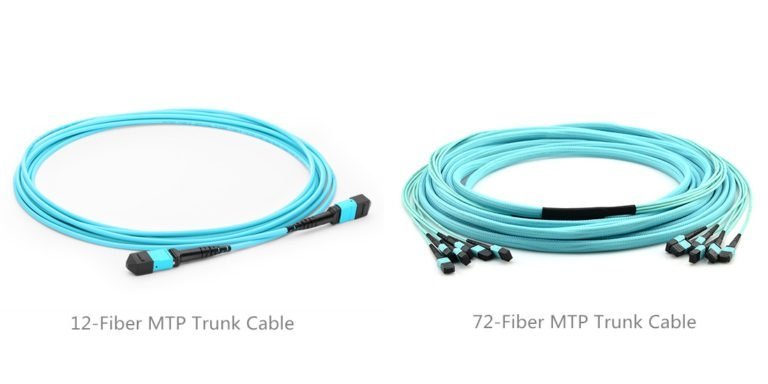 LC/SC Pre-terminated Fiber Patch Cable
Lucent Connector (LC) and Snap-in Connector (SC) uses 1.25mm ferrule and 2.5mm ferrule connected to the fiber of matching thickness. These type of pre-terminated fiber patch cable became the most commonly used pre-terminated fiber cable in the most data center.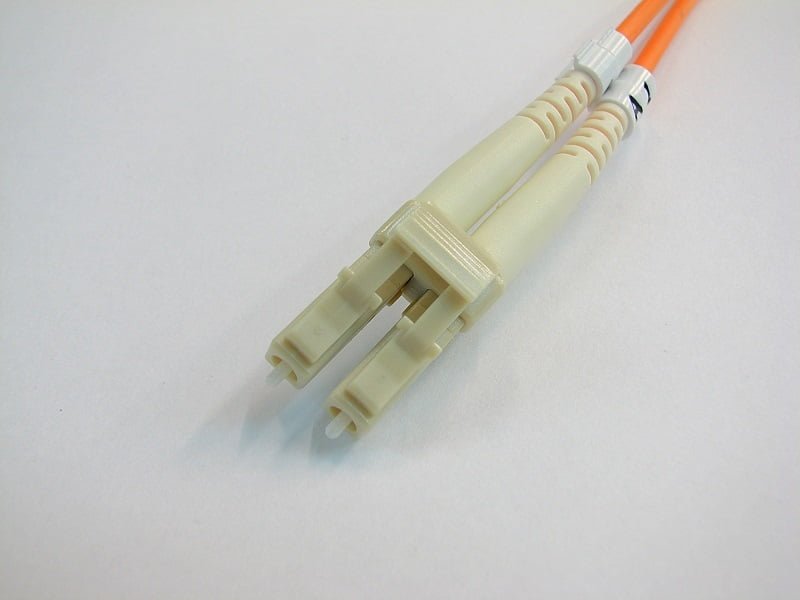 Pre-terminated Copper Cable
Similar to the fiber optic cables, the Pre-terminated Copper Cables have a copper core in the middle that carries the information. The Copper pre-terminated trunks are typically comprised of bundles of 6, 12, or 24 and are fitted with factory terminated with jacks and plugs. Based on the cable requirement, pre-terminated cables are available in cat5e, cat6 and cat6a UTP and STP cable types. The termination types are jack to jack, jack to plug, plug to plug, etc.
Wrapping Up
As opposed to the misconception, pre-terminated cables are not just for aesthetic purpose but go beyond to executing the project in a timely and efficient way. The only thing to ensure while choosing your cabling partner is looking for those who offer services such as guaranteed cabling performance, design assistance, certified contractor training, and the ability to handle vast amounts of assemblies within the required delivery window. While comparing cost, the pre-terminated cabling system is effective in the long run.