The call center is the major hub of generating leads for businesses. Although companies have shifted from traditional call centers to cloud-based call centers, the primary focus of giving a quality customer service experience is still the top priority.
However, call centers are not only limited to inbound and outbound calls. Today, Cloud call centers contain various communications channels, tools, and services that have changed the approach to interacting with customers.
Recently, the covid pandemic made a huge impact on call centers for providing customer support. Since the pandemic has made customers more dependent on call centers, there is a surge of challenging interactions with customers as well as increased customer support efforts.
Ultimately, cloud call centers are implementing new trends to redefine the customer support system. In this article, we will learn about some of the latest trends in the cloud call center.
What is a cloud call center?
A cloud call center is responsible for managing inbound and outbound phone calls with clients or customers. A cloud-based phone system like KrispCall provides call center software that includes powerful features and services for improving the customer service experience.
Generally, a call center comes with features like Automatic Call Distributor (ACD), Interactive Voice Response (IVR), sales automation tools, and more. It also includes different modules like call center analytics, workforce management, and more.
Top 10 cloud call center trends
Over the years, cloud-based call centers have adopted various trends to improve the quality of interaction with costumes. Businesses kept updating the trends of the call centers to keep up with the current technology. Let's have a look at the following 10 cloud call center trends.
1. Long-term digital transformation
A cloud call center is continuously going through digital transformation to keep up with the current technology. The complexity of consumer demands over time forces brands to rethink their strategy to interact with customers. Primarily customer interaction is a large part of the cloud call center to generate leads and collect important information.
The call center relies on the combined efforts of various departments to provide a consistent and complete experience. As a result, a long-term digital transformation strategy is required. Thankfully, technological advancements such as unified omnichannel and machine-to-machine communication via IoT are part of the transformation.
These technologies have been adopted across the board by pioneers to improve customer satisfaction with each engagement. Furthermore, most businesses have been able to use the entire business's collective expertise through the usage of unified communication and collaboration (UCC) technologies. It has become much easier to provide outstanding customer support across multiple channels in this manner.
2. A complete omnichannel communications
The goal of omnichannel communication is to standardize service delivery by consolidating customer communications. It's a method of centralizing and optimizing consumer interactions to provide a consistent and seamless experience.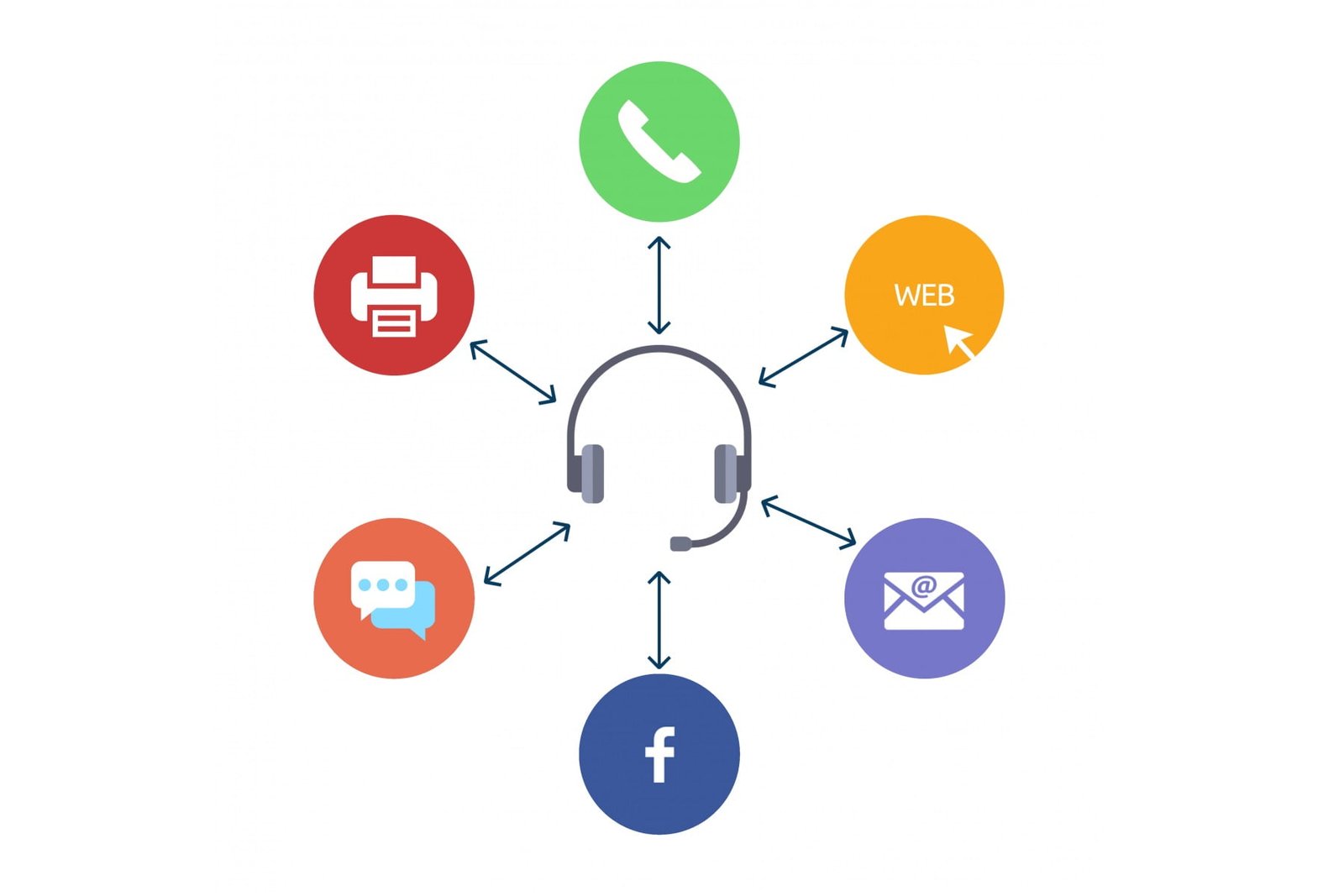 Customers can switch devices or communication channels like calls, live chat, SMS messages, social media, and more to connect with the business without losing their session. Customers may easily traverse across a company's touchpoints with a well-planned omnichannel strategy.
Generally, it assists businesses in gaining a deeper understanding of their customers by collecting important data and storing it in a centralized database. When these characteristics are combined, they aid in the speedy resolution of customers' complaints.
When a consumer contacts a business multiple times, it's easier for agents to retrieve important information about that customer. As a result, the customer will be less likely to repeat their worries, and the agent will be in a better position to resolve the problem promptly.
3. Integration of Artificial intelligence
Cloud call centers are using automation to handle difficult and lengthy processes thanks to artificial intelligence. A lot of call center managers don't need to waste countless hours on implementing time-consuming call routing algorithms. Thanks to AI-based solutions, businesses may now route calls to the "best qualified" representative without keeping the caller waiting.
Furthermore, the introduction of artificial intelligence (AI) into customer interactions has ushered in a revolution in terms of increasing agent efficiency. Cloud call centers are benefiting from AI applications in a variety of ways, such as the deployment of intuitive call routing and the provision of multichannel assistance.
AI also aids in the generation of immediate replies based on data gathered over time. When a customer makes a query, the AI predicts one or more possible responses. The agent can then choose a suitable response or ignore them entirely if they don't make sense.
4. Improvement in call center analytics
Cloud call centers serve as a hub for businesses and customers. Interaction between agents and customers provides raw data from which insights about agent efficiency and customer behavior can be extracted.
Call center executives are now focusing on metrics such as first call resolution, agent idle time, and average handling time. Furthermore, advanced call analytics can provide insights to help customer service providers aim at the top sales and client retention prospects.
More contact centers prioritize comprehensive data analytics tools for businesses to use valuable information that helps them make better decisions. Furthermore, quality assurance software is used to assess call center performance and becoming increasingly common.
In general, analytics is gradually taking over as the driving force. As a result, omnichannel call centers are leading the charge in implementing analytics solutions that summarize business stats.
5. Rich customer satisfaction measurements
Customer satisfaction gives businesses a lot of information about where and how they might improve. Businesses use a variety of methods to gauge customer happiness, but the slick all-in-one strategy appears to be staying constant.
Customer satisfaction is being redefined by brands. They are using an all-in-one strategy rather than executing it as a per-channel activity or doing it their way. For measuring call center customer satisfaction, businesses are using Negative Response Rates (NRR). Although the trend is still in its early stages, businesses expect tremendous progress in the future years.
6. Recall technologies
Brands are deploying recall technology in call centers with the help of AI to check erroneous or undesired communications. AI is a top focus for 83 percent of call centers, and 54 percent of executives believe it is effective. Call center workers can easily prevent erroneous information from reaching consumers using recall technology. Furthermore, if a mistake is made during the dialogue, it is swiftly identified and corrected.
Call centers can use recall technology to ensure that every conversation is accurate. Even though it adds a few minutes to the transmission time, it maintains conversation flow without affecting client pleasure.
7. RPA Bots
In 2021, a big trend is to integrate Robotic Process Automation (RPA) with AI chatbots to solve important operational challenges and automate contact center activities end-to-end. An RPA-powered chatbot can obtain information and manage more complicated customer queries and requests by integrating with siloed back-end enterprise systems.
Chatbots will be able to not only manage discussions and gain information but also perform transactions on behalf of users. They assist in improving the interaction with customers over time to eliminate manual conversations and increase the productivity of the system.
8. Social Media Conversations
The use of social media is rapidly increasing. With roughly 50% of the world's population active on social media, customer experience professionals have spoken that these platforms influence customer service. The rate of customers using social media as a bridge to interact with brands and companies has increased exponentially.
Social media is increasingly becoming an integral aspect of a unified communication system. Brands are working hard to improve the responsiveness and efficiency of their social media services. Two-way social media interactions are taking center stage in call center operations. Some businesses have made two-way interactions public so that potential customers will be able to see how the company addressed a problem.
9. Data Security
Companies are investing more money in assuring information security, and data privacy as cloud call center operations spread worldwide. To maintain client trust in digital channels, businesses must prioritize ensuring customer data isn't stolen through various mediums, such as stealing remote login via a secure VPN.
Another way to reduce security vulnerabilities and data-protection threats is to automate IT security with artificial intelligence (AI). Securing customers' data is extremely important for maintaining their privacy and eliminating the risk of leaking data to the wrong hands or competitors. Call center connections are encrypted with safety barriers and protocols that protect the data from external interference
10. Conversational IVR
Customers anticipate a quick response to their questions as dependent on Interactive Voice Response (IVR) technology is growing rapidly. The call center is upgrading its traditional IVR services to conversational IVR services.
Conversational IVR uses text-to-speech technology. It delivers human-like voice assistance that is engaging and accurate via bots. For instance, you can directly talk about your queries to the customer's services instead of choosing an IVR option.
Then the bot will automatically understand your query from your speech and ask you for more information. Finally, the bot will complete your process or transfer you to the appropriate agent for clarity. This conversational IVR is slowly redefining the customer support system by improving interactive engagement with customers.