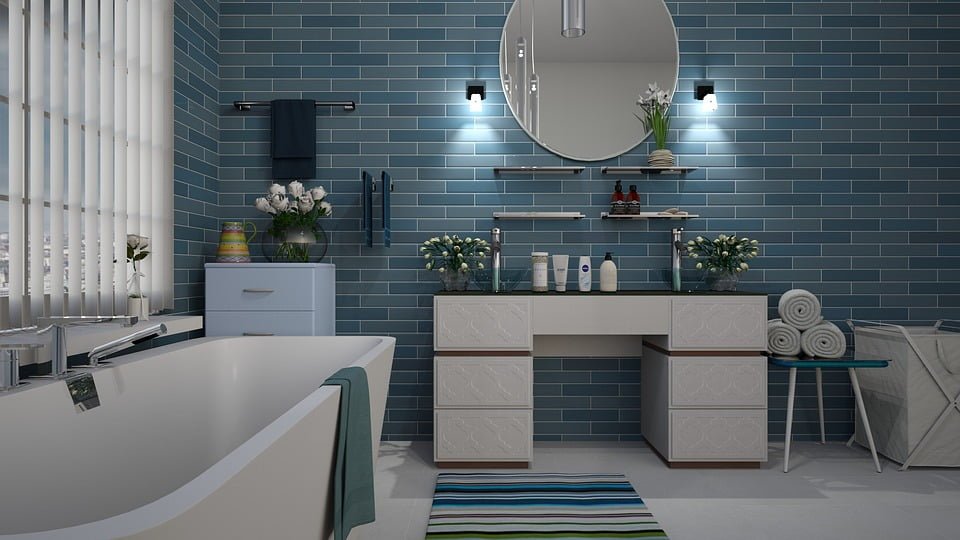 Bathrooms are no longer plain utilitarian spaces that we want to get in and out of as fast as possible. They are places of luxury, convenience and high-tech wonderment. Technology has been trending in home design for a while, with some of the most fun and life-improving trends popping up in the bathroom. From wireless and Bluetooth operated showers to warming Japanese-style toilet seats, these are 6 high tech bathroom ideas to improve your living in 2019. 
1. High-Tech Toilet
Electronic toilets have been a staple of up-market Japanese bathrooms for a while. Increasingly elegant in design and with a host of fantastic features like deodorizers, sensor-operated lids, and life-changing washlets and bidet streams, high-tech toilets have never been more on-trend.
Night lights and heated seats make those mid-night visits all the easier, whilst automated controls allow for a more hygienic and hassle-free toilet visit. There are a host of fantastic high-tech toilet models to choose from, with most designed to make your life less complicated and cleaner.
2. Smart Shower
Showers can now be operated wirelessly with a smartphone app, meaning that you can get the water running and heat building before you even step in the bathroom.
Aside from these wireless wonders, there are a host of futuristic designs which allow users to customize their lights, temperature and in-shower music via wall panels, controllers or smartphone (just don't get it wet).
These showers of the future also include voice activation which allows users to start up a host of remote features, transforming the bathroom from a humble place of wash to a relaxing spa retreat.
These smart bathroom gadgets are designed to make your house more connected – so that you can seamlessly control all aspects of your life, from the kitchen to the bathroom.
3. Touchless Tap Faucets
A common feature of public bathrooms, touchless faucets are making the move to private bathrooms. Not only are they hassle-free and more hygienic, but they can also help cut costs by running water automatically only when in use, ensuring no taps are left running for long periods.
If you're looking to make even less of a negative environmental impact by saving water, consider installing low-flow aerators into your faucets. Touchless tap faucets are smart bathroom accessories that are easy to install and quick to impress.
4. Towel Warmers
The world of towel warming has come a long way since the invention of the humble towel rail. For a toasty towel, consider the hidden bathroom warming cabinet, a stainless steel warming drawer that can make your towel warmer to the touch in no time.
No more waiting for the towel to dry on the rail, simply collect your pre-warmed towel from your discrete warming wardrobe. These can be hidden as sink cabinets to help make your room brighter and uncluttered.
5. Privacy Glass
Another high-tech wonder, privacy glass is a unique invention that has taken the place of opaque glass windows and in-the-way blinds. Simply place this futuristic adhesive film on your existing bathroom windows.
You can then control the transparency and color of your glass via a handheld smartphone app. It essentially takes away the need for bathroom blinds and curtains, offering a cleaner, sleeker bathroom aesthetic – one that goes well with other modernist designs.
6. Sleek, Modernist Design
Whilst high-tech multi-function toilets may be all the rage, so are sleek and modernist bathroom toilet, sink and shower features.
With slimmer and more ergonomic toilet designs now on the market, you needn't opt for either or bulky toilet seats which draw the eye and use up too much space.
Consider items like Argent bathroom products and accessories; these go a long way in transforming your bathroom into a more sophisticated and clean looking space.