Each year, EA Sports releases its new range of sports games in football, ice hockey, and American football. Each year, the FIFA, NHL, and Madden games receive a lot of hype as the best games yet, but they don't always live up to these claims. For FIFA 19, the game appears to have delivered on its lofty promises of bringing a bigger and better footballing experience to gamers around the world.
FIFA 19: Brand new game modes and licenses

Source: PlayStation, via Twitter
The FIFA Franchise has always ruled over Konami's Pro Evolution Soccer by virtue of its licenses to use the league, team, and player names and likeness. But, for a long time, PES owned the license to the most prestigious competition in Europe, the UEFA Champions League – but not anymore. You can even choose to play a best of series of games or two-leg games on FIFA 19 in a similar way to that of the NHL.
FIFA now has the full Champions League license and has used it to create a new game mode and integrate everything to do with the Champions League into its many longstanding game modes. But, that's not all that EA Sports has added to FIFA 19, with many new and exciting game modes available to play and undoubtedly become the subject of house parties and pre-drinks very soon.
Survival Mode, Headers and Volleys, and the customizable House Rules options come in as some of the most anticipated new additions to the franchise, giving players a whole new way to play the sport. Survival Mode is the most exciting, joining the new Battle Royale craze that has swept over gamers while resurrecting a much-loved mode from the classic FIFA Street game.
FIFA 19: Getting the player ratings right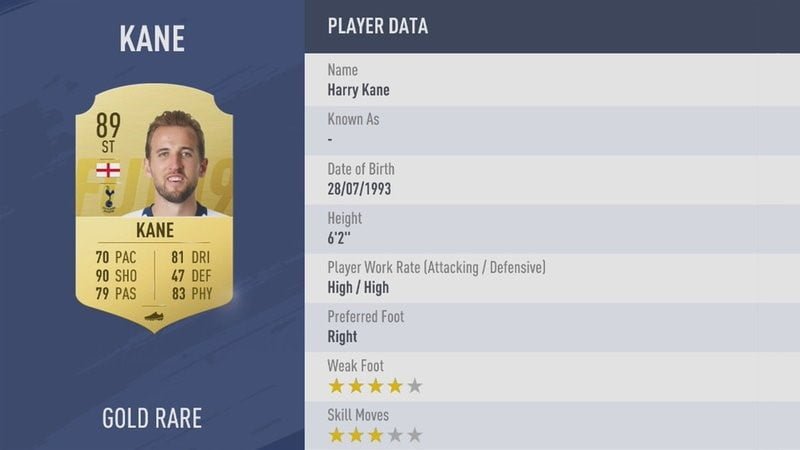 Source: Daily Hotspur, via Twitter
For some unknown reason, the FIFA games have tended to look down on the Premier League and its star players when dishing out player ratings in many of the most recent versions. But, this year, they look to have got it to spot on, rewarding top Premier League players with the enhanced ratings that they deserve.
Some of the biggest of these improvements include Harry Kane – the multiple Premier League Golden Boot winner – being pumped up from a horrifying 86 to a strong 89, along with Mohamed Salah rightfully being given an 88 over his 83 ratings in FIFA 18.
It looks as though FIFA has started to drift away from its team balancing, bias rating system to one more based on player merit, as seen with the Old Trafford residents. Manchester United may be at 6/5 to be a top-four club this season but that doesn't mean that they don't boast lots of class in David De Gea, now rated 91 from 90, Paul Pogba, now rated 88 from 87, and Romelu Lukaku, who has seen a bump from 86 to 87.
FIFA 19: Gameplay improvement and patching issues

Source: The Sportsman, via Twitter
Each year, FIFA updates its player stats and makes tweaks to the gameplay but, in FIFA 19, it seems that EA has come a long way in making it a much more realistic playing experience.
The new timed finishing mechanic adds another level of skill to firing shots past the goalkeeper, requiring the player to press to shoot and then again as player's foot connects with the ball to determine the swiftness of the strike. FIFA 19 also brings an enhanced 50-50 battles system to make the duels for an aerial ball more interesting and skillful. The player likeness has also been praised in the running to release, with the dribbling styles of Lionel Messi and Eden Hazard cited as being incredibly realistic.
FIFA 19 looks to be the most complete, realistic, and action-packed version of the game to ever be released. While there are still some improvements to be made and game mechanic fragilities to be found, there's no doubt that EA Sports have greatly advanced the football franchise this year.