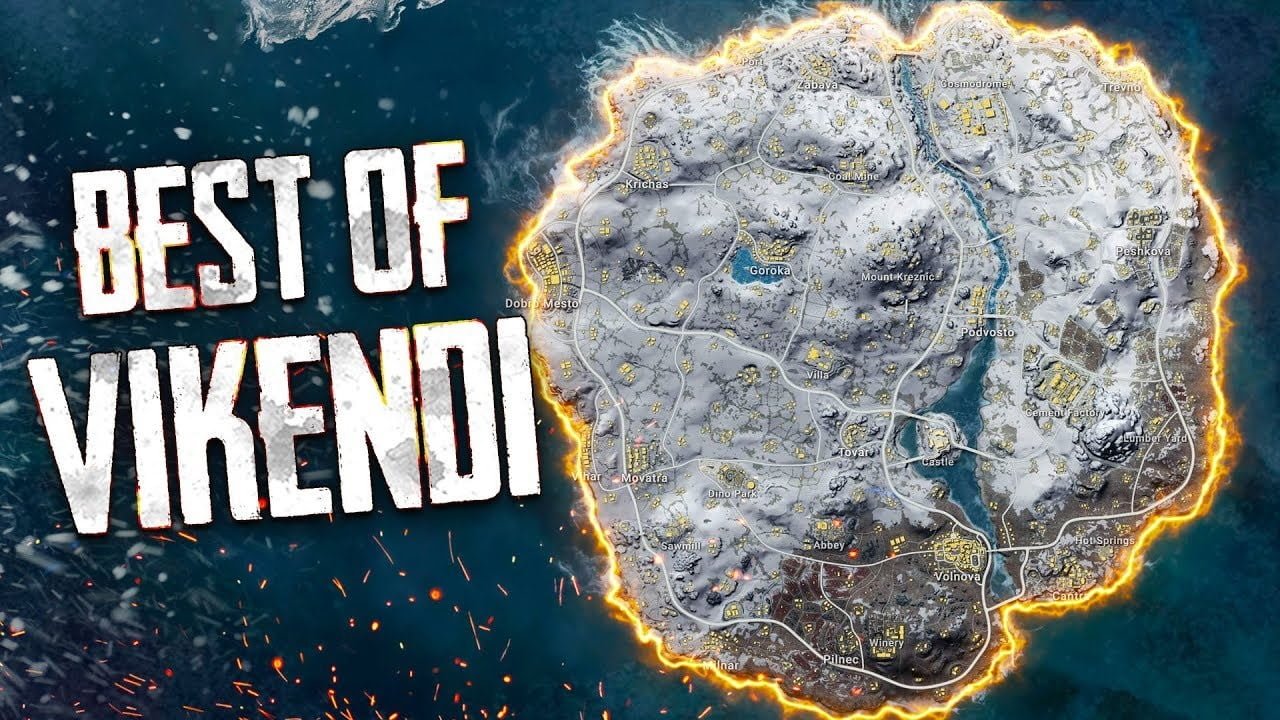 It's been months since the release of Vikendi Map or most commonly known as Snow Map. Moreover, one month after the release of Vikendi Map, Tencent introduced night mode Aurora where you will see beautiful green light in the sky. However, are you familiar with all the locations of Vikendi Map? If not, then you are at the right place because here you will find out the best loot and drop locations of this Pubg Map.
In these locations, you will find the best loot from Assault rifles to the Bolt-Action rifle sniper gun. Moreover, you can include these locations as part of your strategy of playing defensively. In the best loot locations, you can loot for weapons and health items peacefully. However, if you want to start your game with the offense, then I would recommend you at hot drop locations where most users of a server drop. In this type of location, you have to kill your enemies as soon as you pick-up your weapons.
PUBG Vikendi best loot locations
Vikendi or Snow map has around 27 locations where you can drop. However, all the locations vary with the quantity of loot. This map is considered the best spawn location, so you should check out this map to make sure that you know where the vehicle spawns most of the time. Regarding one thing you will agree with me is that loot in the Vikendi Map greatly favors SMGs and especially it's the Micro-Uzi submachine gun that you will find in almost all the locations. Also, in addition to this, most commonly you will find smoke grenades, scope attachments in some areas. Earlier, some items such as Level 3 helmets and Military vests were dropped exclusively. However, now you can find these items in the Map. So, you don't have to wait for Air Crate drops for them. All you have to do is find the best locations where these items are spawned usually.
However, if you have found Level-3 items to equip but still there are some items that you won't find easily in the Vikendi Map. The reason for this is that they are not spawned in Pubg Maps everywhere. Moreover, here, I am talking about weapons such as M24, Kar98k, SKS or Mini 14. Since the release of night mode in Vikendi Map, the spawn rate of sniper rifles and DMRs has decreased to a high level. Now, if you think that you can kill your opponent using an SMG, then I will say that you can kill them SMG's like UMP9 or Micro-Uzi but using Sniper rifles, you can kill your opponent from far away instantly with 2-3 bullets.
PUBG Vikendi best drop locations
If you look at the Map, then you can see that several locations in the Vikendi Map is far more occupied than the other locations. Moreover, many places in this Pubg Map are smaller in size which reduces the number of player hot-dropping in these locations. Even though play a Solo match in this map, you will at least two to three people dropping alongside with you. So, it's best for you to know that in which part of the Map most action is expected and additionally, you will find some more interesting places to drop to get the best loot. Now, I will begin with the two most popular locations in the Vikendi Map:
Castle
Castle has become one of the most popular sites in Vikendi Map thus far as a most players like to drop in this destination. If you have played Miramar before then you will find that this location is quite similar to Hacienda is to Miramar and Georgepool to Erangle Map (which you can find full detail on this website). You will find this place as a central and secure location where you are surrounded by water from all sides. Castle has a great sniping spot, and that is the walkway. You will find this spot near the central tower that allows other teams to gain some intelligence for free. Although, the interior of Castle is relatively open, still to take a cover from other players you can crouch down between the walkways. This strategy can help you to get an edge over your opponents. In addition to this, you will find a ton of good loot here. So, if you manage to survive from your opponent's attack, then you can equip the right amount of gear for the rest of the match.
Cosmodrome
Cosmodrome is a large compound with a decent amount of loot spread around in the location. The best thing about this location is that this place underground areas that can protect you from your opponents who are firing with sniper rifles at you. Moreover, one part of Cosmodrome faces a cliff that can provide a great in a small circle. In case you are discovered by your enemy then this location offers an opportunity for you to escape.