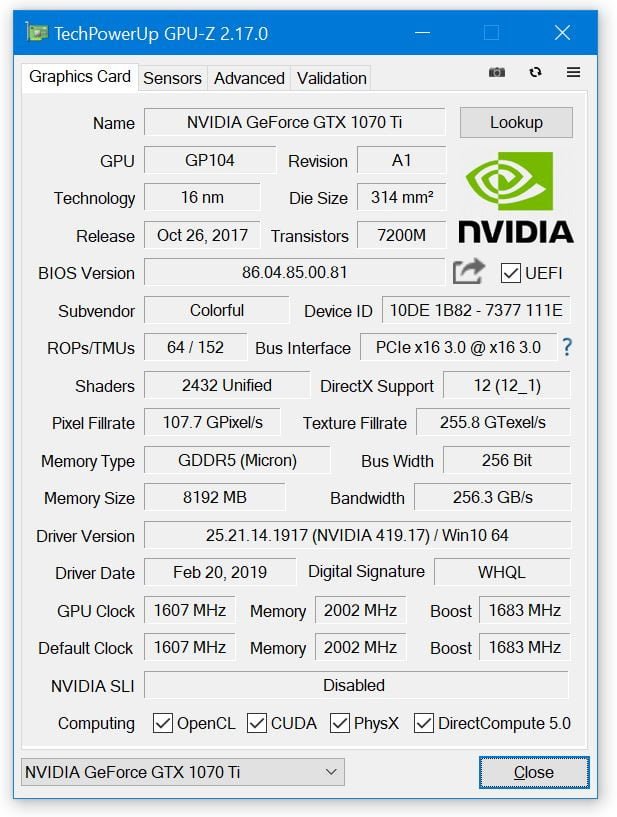 TechPowerUp today released the latest version of TechPowerUp GPU-Z, the graphics subsystem information, monitoring, and diagnostic utility no enthusiast can leave home without. Version 2.17.0 adds support for new GPUs, and fixes a number of issues. To begin with, GPU-Z adds support for AMD Radeon VII, NVIDIA TITAN RTX, GeForce GTX 1660 Ti, GeForce RTX 20-series Mobile, Quadro RTX 4000, Intel "Amber Lake" GT2 graphics, among several other rare GPU models detailed in the change-log. Support is also added for AMD Radeon Software Adrenalin 2019 Edition drivers.
Among the several issues fixed are improved monitoring on Radeon RX 580 2048-SP, default boost frequency reporting on GTX 1660 Ti and certain "Pascal" GPUs, missing fan sensors on RTX 20-series cards with no display connected, a start-up crash and DXVA 2.0 report crash noticed on Windows XP machines; power-limit reporting and BIOS extraction crashes on certain older NVIDIA GPUs, various general crashes caused by physical memory access, and video memory reporting on "Vega" based graphics cards with 16 GB memory.
There are numerous user-experience improvements, including simplified sensor labels, improved memory usage readouts, a more functional crash-reporter that lets you describe the problem along with an e-mail address input so we could directly get back to you; memory timings readouts only appearing in compatible environments, etc. Grab GPU-Z from the link below.
Complete change-log
Added support for NVIDIA GTX 1660 Ti, Titan RTX, RTX 2080 Mobile, RTX 2070 Mobile, RTX 2060 Mobile, Quadro RTX 4000, GTX 650 (GK106), Quadro P5200
Added support for AMD Radeon VII, Radeon HD 8400E
Added support for Intel Amber Lake GT2 (Core i7-8500Y)
Added support for detection of Radeon Adrenalin 2019 version
Simplified some sensor titles: "GPU Clock", "Memory Clock", "Shader Clock"
Unified "Memory Used" / "Memory Usage" sensor titles to "Memory Used"
Improved crash reporter to ask for problem description and optional email, so we can follow up
Advanced Panel dropdown will show "Memory Timings" option only when memory timing details are available
OpenCL "Max Packet Size" is now formatted as unsigned value
Instead of empty value show "None" when no OpenCL Built-in Kernels supported
Added support for "None" in OpenCL DP, SP, Half FP Capability
Fixed "File creation failed" message during GPU-Z startup
Fixed GPU and memory load monitoring on RX 580 2048 SP
Fixed missing default boost clock on GTX 1660 Ti and some Pascal cards
Fixed missing fan sensors on RTX cards with no monitor connected
Fixed crash on startup (Windows XP)
Fixed crash when opening DXVA 2.0 report (Windows XP)
Fixed power limit reporting on older NVIDIA cards
Fixed crash during BIOS save on older NVIDIA cards
Fixed incorrect VRAM reporting on 16 GB Vega
Fixed various crashes caused by physical memory access
DOWNLOAD: TechPowerUp GPU-Z v2.17.0
Read full story