There is no doubt that people like multimedia to enrich their entertainment life, which is a great way to release pressure for most of us. Especially today when movies are everywhere, everything becomes easier! However, more and more people choose to rip DVDs to different portable devices to enjoy. Although this method is workable, it also has some limitations, which is why WonderFox DVD Video Converter is used. It can easily convert DVD to HD video files, which can be played on different devices or shared with others. In this article, we will give the software a comprehensive perspective with a detailed tutorial.
As a reliable and well-known software, WonderFox DVD Video Converter contains a lot of exciting features that you will benefit from. These features are extremely useful for those who want to spend less time getting a better experience when converting videos. If you are concerned about your needs cannot be fully met, don't worry, there are plenty of features for your reference.
Main features of WonderFox DVD Video Converter
Rip your DVD files with 1:1
Most ripping software on the market can cause damage to quality when ripping DVDs, even make the converted results look terrible and incompatible. Fortunately, one of the best features of WonderFox DVD Video Converter is that you are allowed to rip your DVD 1:1 to ensure that the output file is consistent with the quality of the original file.
Download videos from various video-sharing sites
WonderFox DVD Video Converter can not only help you solve DVD-related issues but also guide you to download popular videos from the 300+ websites like YouTube, Vimeo, Hulu, Facebook, Twitter, and more to keep pace with your favorite videos without an internet connection.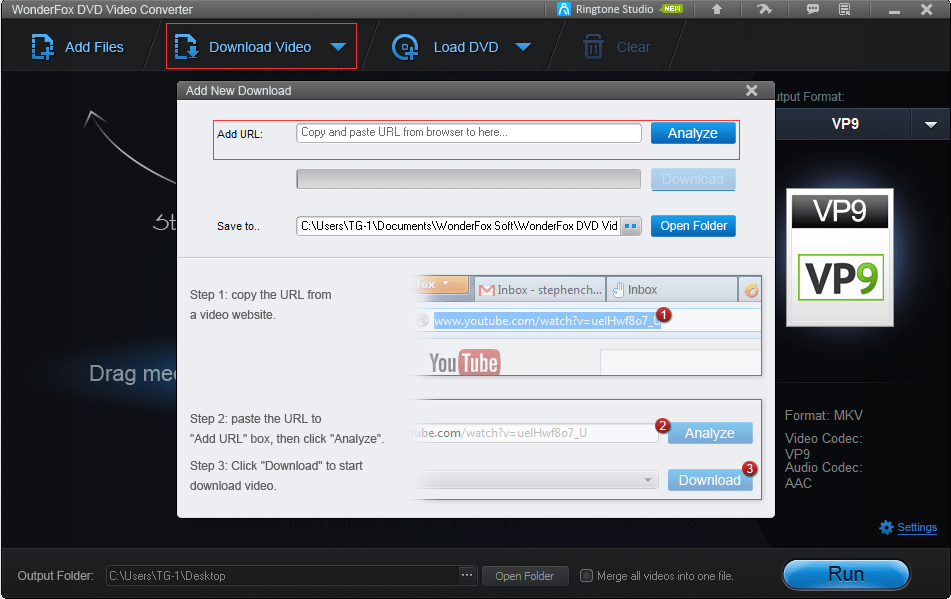 Supports up to 300 formats and devices
As you can see from its name, WonderFox DVD Video Converter can convert DVDs as well as a powerful video converter that allows you to convert video to more than 300 formats and devices such as MP4, WKV, WMV, AVI, MOV, M4V, MPG, Samsung, Huawei, Sony, Apple, Nokia, Lenovo, etc. In addition, it supports the conversion of multiple audio formats such as WAV to MP3, WAV to DTS, ALAC to AC3, and so on.
Leading video decoding technology
Equipped with advanced DVD decoding and decryption technology, WonderFox DVD Video Converter allows you to copy protected encrypted DVDs to digital files from video sites for smooth playback by removing or bypassing region code, RCE, CSS, Disney X-project DRM and more.
Back up old and scratched DVDs
Too many DVDs to collect? Want to free up more space? Precious DVDs are always damaged? Don't worry anymore. WonderFox DVD Video Converter gives you the ability to back up scratched DVDs so you can copy the contents of the DVD to your digital device for better protection of DVD files.
How to use WonderFox DVD Video Converter to rip DVD?
In fact, the method of using the WonderFox DVD Video Converter is very simple. However, in order to help those who need it, we are still happy to provide a step-by-step tutorial, let's get it started.
Step 1: Your first task is to free download the program and install it on your PC.
Step 2: Start the software. The normal startup time of the software is ten seconds. After you click on its icon, please be patient and don't click repeatedly.
Step 3: Once you have successfully entered the software interface, click on the "Load DVD" to add the DVD file for ripping.
Step 4: Choose your desired output format and device.
Step 5: When the format and device are decided, click the "Run" button to rip the DVD file. It should be noted that although the conversion does not take a long time, it depends on some uncontrollable factors such as your CPU, the size of the DVD file, etc.
Other features of WonderFox DVD Video Converter
A Built-in video editor
Automatically detect the main movie from 99 titles.
Support batch conversion.
Change subtitles for videos.
Blazing-fast conversion speed.
Free make ringtones for digital devices.
Pros:
Easy to use and user-friendly.
Provide a variety of format options.
Intuitive multi-language interface.
Cons:
The language type is limited.
No permission for the Mac system.
Final Words
In short, WonderFox DVD Video Converter is a helpful tool that can empower you to solve many problems with strong security and functionality. Moreover, it is embedded with a video editor that can effectively perform basic editing of the video such as merging video, adding effects, rotating video and more. No matter where you want to use it, it will be an ideal choice.