RecordCast is a free screen recorder that helps you record online video screens and edit your videos as you like online without registering and downloading needs.
Nowadays, there are actually many useful free online video screen recording tools on the Internet. If you don't want to download and install any program, it is a great choice.
General view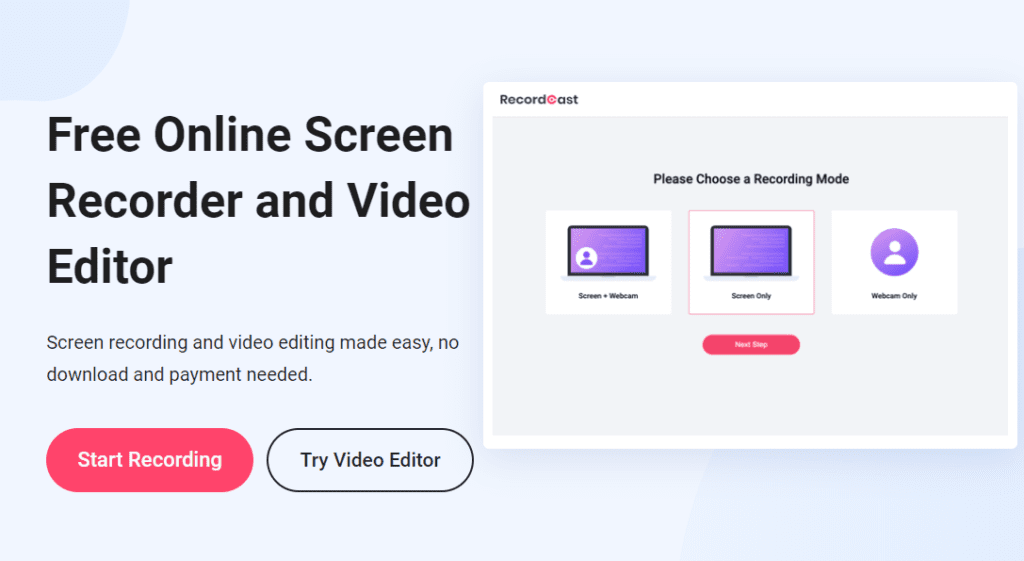 RecordCast screen recorder provides many screen recording features, such as recording screen + webcam simultaneously, audio recording system or from microphone, and after recording, there is also a robust video editor to add text or background or cut different clips together. All is free.
RecordCast screen recorder is known to be one of the most useful tools that make life easier. It can be used for a number of uses – creating tutorials, recording presentations to improve business communication, producing video lessons to help teachers and students, etc. It is easy to create high-quality recordings.
Record Cast is the easiest to use online video screen recording tool that enables users to capture any screen activity with sound with one click. In the end, RecordCast is a web-based screen recorder without downloading any plugins.
RecordCast is a product developed by PearlMountain Limited who specializes in developing graphics and multimedia software and aims to make graphic design professional, easy, and accessible to everyone. Its products have millions of users spread around the world.
RecordCast features
Free: You can get high-quality recorded videos without a watermark, without paying anything.
You do not need to download any programs: You can start recording your screen online with one click without downloading any programs or add-ons.
Very easy and flexible application: You are able to create a screencast of the entire screen, application windows, or browser tabs as you need. It is also possible to record simultaneous audio or webcam if you prefer.
Built-in video editing tool simultaneously: You have the option to edit your video by adding attractive titles, captions, effects, and more in the video editor.
Register an account with RecordCast
You can register an account for free using your personal email address. You can also log in with Facebook or Google accounts. Of course, you can use the new tool RecordCast screen recorder without registering.
How to record computer screen video online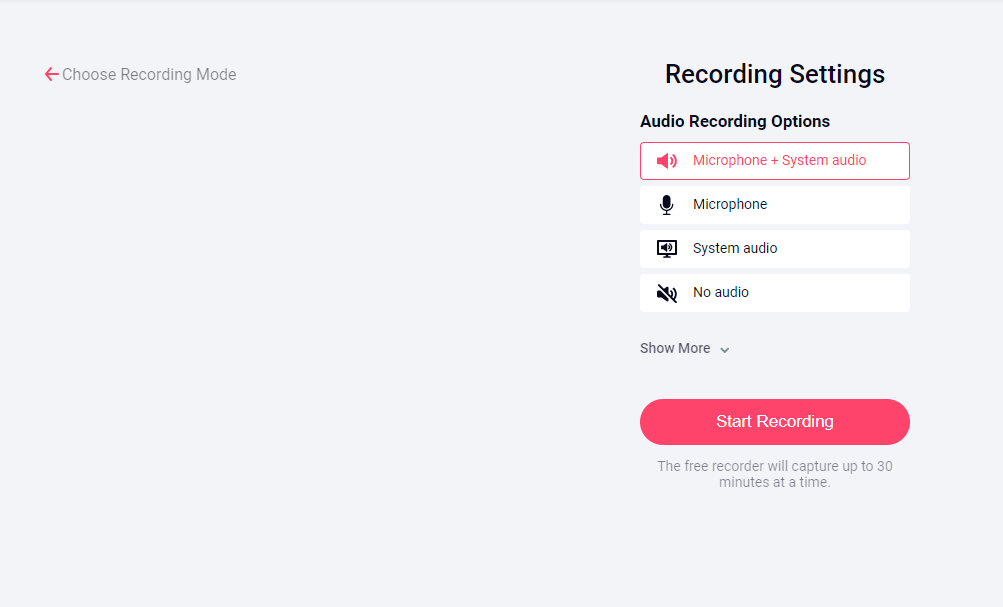 The process is very easy. Just click the Start Recording button on the official website and then select from the three options available: Screen, Webcam, Screen, and Webcam.
The second step is to adjust the settings. It offers you several options to record audios for your videos. You are free to record the system audios, Microphone audios, both, or no audio. There is an option to record the screen and record the audio simultaneously as well without the need to use another application to perform the dubbing or audio later. This is a very cool feature from my point of view. Choose a recording option that suits you best.
The next step allows you to select the entire screen, browser tab, or specific application. In this step, don't forget to check to give permission to access the microphone to record audio.
Start recording now, and remember that the recording is up to 30 minutes. But you can get the final video up to 1 hour long by combining several short videos into a new one using its video editor.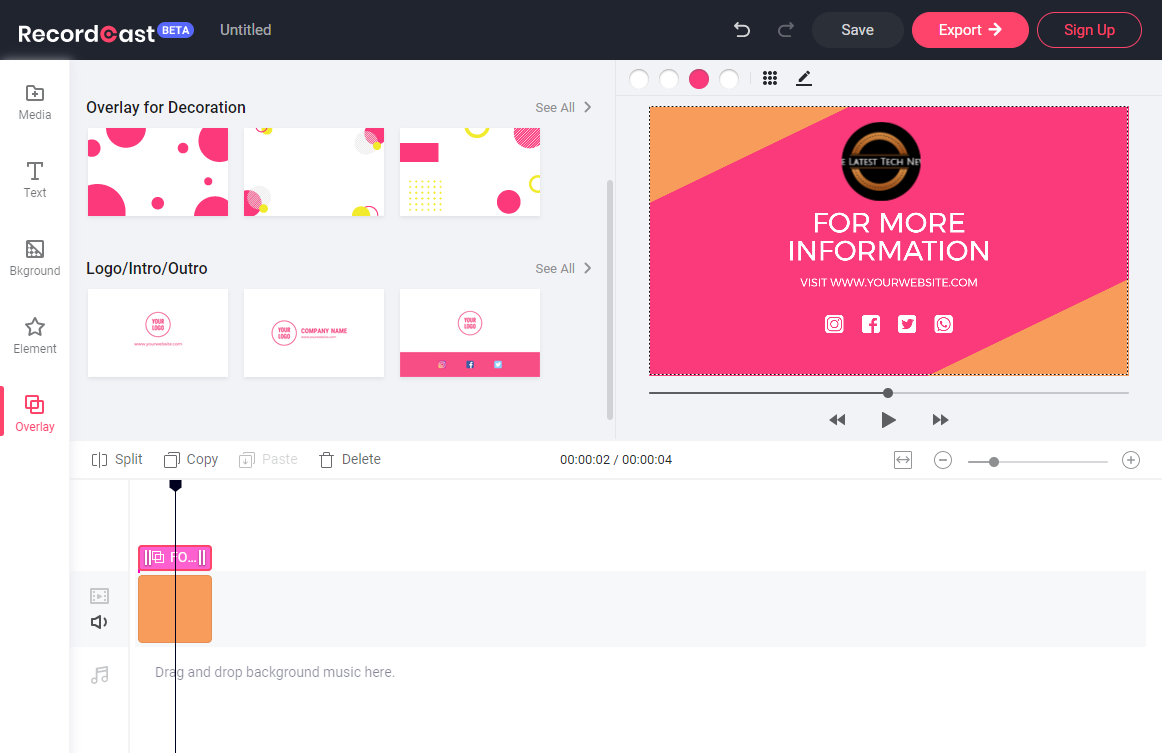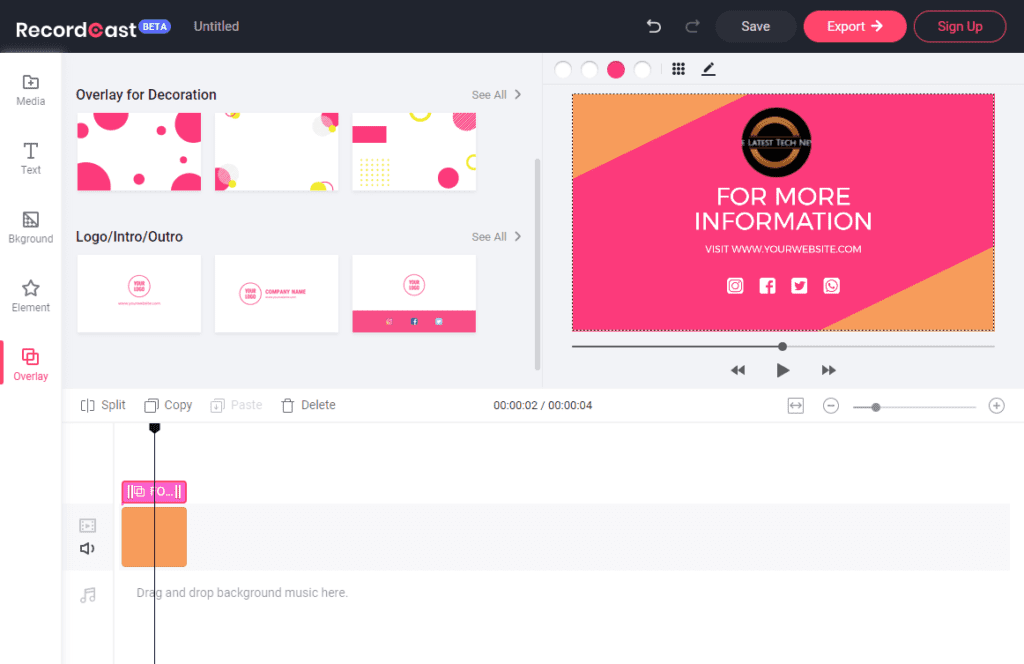 After you complete the recording, you can download and edit the video with the built-in free video editor, all for free and online. You can also use the free video editor to add titles, texts, music, background, and more available elements, etc.
You can save your recordings simply and edit them freely after editing them with RecordCast video editor. It is very simple. Just click on the Export option. RecordCast gives you many options for saving video(480p, 720p, and 1080p), so you can choose a high-quality video to use on YouTube or any other where you want.
In my opinion
RecordCast is a powerful free web app that's perfect for all user levels to use for presentations, business, tutorials, and more. Now with RecordCast, you will be able to use it for many purposes with the ease of its features and functions. I am happy to recommend this to everyone with its wide range of uses.