The leading global motherboard manufacturer, ASRock, proudly announces the return of its OC Formula motherboard lineup with the overclocker-designed Z590 OC Formula built for Intel's 11th-generation desktop processors.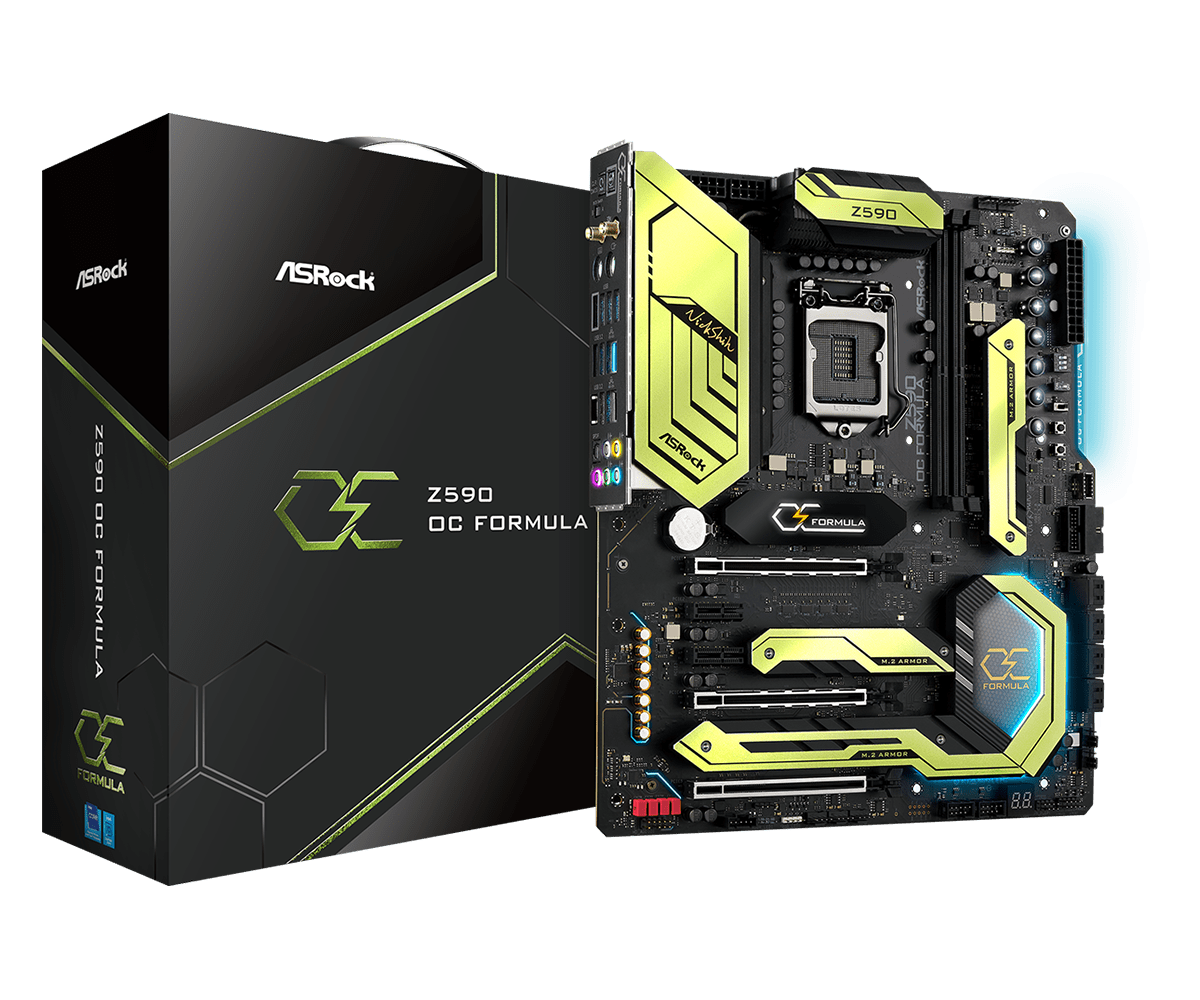 ASRock's Overclocking Leadership
Back by popular demand from overclockers, the ASRock Z590 OC Formula is filled with overclocking-friendly specs such as SMD Type DIMM Slots, a 12-layer server-grade low loss PCB, and 16 power phase 90A smart power stage technology.
ASRock's SMD DIMM Slots help reduce signal loss, as well as improve RAM stability under high frequency so you can maximize your memory overclocking potential. The 12-layer server-grade PCB prevents PCB bending and improves signal integrity, giving higher performance as well as system stability. Smart power stage technologies are optimized for monitoring the current and temperature of each power phase which means the CPU gets a smooth supply of power resulting in enhanced overclocking performance and capability.
The Z590 OC Formula features unique PCB Backdrill craftsmanship which removes the excess stub in multilayered printed wiring boards. This benefits extreme memory overclocking by allowing signal to flow between layers with less loss through attenuation while also improving impedance matching.
To ensure that overclockers have easy access to key performance data, the motherboard also includes an OLED display. The motherboard also features an OC button for easy control of the overclocking features.
Z590 OC Formula Key Features
Supports 10th Gen Intel® Core™ Processors and 11th Gen Intel® Core™ Processors
16 Phase 90A Dr.MOS Power Design, 12 Layer PCB
Supports DDR4 5600MHz (OC)
2 x PCIe 4.0 x16, 1 x PCIe 3.0 x16, 2 x PCIe 2.0 x1
7.1 CH HD Audio (Realtek ALC1220 Audio Codec)
ESS SABRE DAC, WIMA Audio Caps
8 SATA3, 1 x Hyper M.2 (PCIe Gen4 x4)
2 x Ultra M.2 (PCIe Gen3 x4 & SATA3)
1 x USB 3.2 Gen2x2 Front Type-C (20Gb/s)
4 x Rear USB 3.2 Gen2 (3 Type-A, 1 Type-C )
8 x USB 3.2 Gen1 (4 x Rear, 4 x Front)
Intel® 2.5Gbps LAN, Intel® 1Gbps LAN
Intel® WiFi 6E (802.11ax) + BT 5.2
Z590 OC Formula Specification
OC Formula KitOC Formula Power Kit
– 16 Phase CPU Power design + 2 Phase Memory Power design
– Digi Power (CPU and Memory)
OC Formula Connector Kit
– Hi-Density Power Connector
– 15μ Gold Contact (memory sockets and PCIE x16 slot (PCIE1)
OC Formula Cooling Kit
– 12 Layer PCB
– 2oz copper
– Heat Pipe Design
Unique FeatureASRock USB 3.2 Gen2
– ASRock Front Panel Type-C USB 3.2 Gen2x2 Header (20 Gb/s)
– ASRock USB 3.2 Gen2 Type-A Port (10 Gb/s)
– ASRock USB 3.2 Gen2 Type-C Port (10 Gb/s)
ASRock Super Alloy
– XXL Aluminum Alloy Heatsink
– Premium 90A Power Choke
– 90A SPS (Smart Power Stage)
– 50A Dr.MOS
– Premium Memory Alloy Choke (Reduces 70% core loss compared to iron powder choke)
– Nichicon 12K Black Caps (100% Japan-made high quality conductive polymer capacitors)
– Shaped PCB Design
– Matte Black PCB
– High-Density Glass Fabric PCB
– 12 Layer PCB
– 2oz Copper PCB
Server-Grade Low-Loss PCB
Intel® 2.5G LAN
Intel® 802.11ax WiFi 6E
ASRock Steel Slots
ASRock Full Coverage M.2 Heatsink
ASRock Hyper M.2 (PCIe Gen4x4)
ASRock POST Status Checker (PSC)
ASRock Ultra USB Power
ASRock Status OLED
ASRock Full Spike Protection (for all USB, Audio, LAN Ports)
ASRock Live Update & APP Shop
CPU- Supports 10th Gen Intel® Core™ Processors and 11th Gen Intel® Core™ Processors (LGA1200)
– Digi Power design
– 16 Power Phase design
– Supports Intel® Turbo Boost Max 3.0 Technology
– Supports Intel® K-Series unlocked CPUs
– Supports ASRock Hyper BCLK Engine III
Chipset- Intel® Z590
Memory- Dual Channel DDR4 Memory Technology
– 2 x DDR4 SMD DIMM Slots
– 11th Gen Intel® Core™ Processors support DDR4 non-ECC, un-buffered memory up to 5600+(OC)*
– 10th Gen Intel® Core™ Processors support DDR4 non-ECC, un-buffered memory up to 5000+(OC)*
– Supports ECC UDIMM memory modules (operate in non-ECC mode)
– Max. the capacity of system memory: 64GB**
– Supports Intel® Extreme Memory Profile (XMP) 2.0
– 15μ Gold Contact in DIMM Slots

*11th Gen Intel® Core™ (i9/i7/i5) support DDR4 up to 3200; Core™ (i3), Pentium® and Celeron® support DDR4 up to 2666.
10th Gen Intel® Core™ (i9/i7) support DDR4 up to 2933; Core™ (i5/i3), Pentium® and Celeron® support DDR4 up to 2666.

**Due to the operating system limitation, the actual memory size may be less than 4GB for the reservation for system usage under Windows® 32-bit OS. For Windows® 64-bit OS with 64-bit CPU, there is no such limitation.
BIOS- 2 x 256Mb AMI UEFI Legal BIOS with multilingual GUI support
– ACPI 6.0 Compliant wake-up events
– SMBIOS 2.7 Support
– CPU Vcore, DRAM (VCCM, VPPM, VTT), VCCSA, CPU PLL, VCC PLL, STANDBY1, STANDBY2, STANDBY3, VCCIO, VCCIOMEM, PCH Voltage, CPU Internal PLL, Ring PLL, System Agent PLL, Memory Controller PLL Voltage Multi-adjustment
Graphics- n/a
Audio- 7.1 CH HD Audio with Content Protection (Realtek ALC1220 Audio Codec)
– Premium Blu-ray Audio support
– Supports Surge Protection
– WIMA Audio Capacitors (For Front Outputs)
– ESS SABRE9218 DAC for Front Panel Audio (130dB SNR)
– Pure Power-In
– Direct Drive Technology
– PCB Isolate Shielding
– Impedance Sensing on Rear Out Port
– Individual PCB Layers for R/L Audio Channel
– Gold Audio Jacks with LED
– 15μ Gold Audio Connector
– Nahimic Audio
LAN1 x 2.5 Gigabit LAN 10/100/1000/2500 Mb/s (Intel® I225V)
– Supports Wake-On-LAN
– Supports Lightning/ESD Protection
– Supports Energy Efficient Ethernet 802.3az
– Supports PXE 1 x Gigabit LAN 10/100/1000 Mb/s (Intel® I219V)
– Supports Wake-On-LAN
– Supports Lightning/ESD Protection
– Supports Energy Efficient Ethernet 802.3az
– Supports PXE
Wireless LAN- Intel® 802.11ax Wi-Fi 6E Module
– Supports IEEE 802.11a/b/g/n/ax
– Supports Dual-Band 2×2 160MHz with extended 6GHz band support*
– 2 antennas to support 2 (Transmit) x 2 (Receive) diversity technology
– Supports Bluetooth 5.2 + High-speed class II
– Supports MU-MIMO

*Wi-Fi 6E (6GHz band) is not currently enabled by default due to the different regulation status of each country. It will be activated (for supported countries) through Windows® Update and software update once available. The update is expected to be in the middle of 2021.
Slots11th Gen Intel® Core™ Processors
– 3 x PCI Express x16 Slots (PCIE1/PCIE4/PCIE5: single at Gen4x16 (PCIE1); dual at Gen4x8 (PCIE1) / Gen4x8 (PCIE4); triple at Gen4x8 (PCIE1) / Gen4x8 (PCIE4) / Gen3x4 (PCIE5))*
10th Gen Intel® Core™ Processors
– 3 x PCI Express x16 Slots (PCIE1/PCIE4/PCIE5: single at Gen3x16 (PCIE1); dual at Gen3x8 (PCIE1) / Gen3x8 (PCIE4); triple at Gen3x8 (PCIE1) / Gen3x8 (PCIE4) / Gen3x4 (PCIE5))*

– 2 x PCI Express 2.0 x1 Slots
– Supports AMD Quad CrossFireX™, 3-Way CrossFireX™ and CrossFireX™
– 1 x Vertical M.2 Socket (Key E) with the bundled WiFi-802.11ax PCIe WiFi module (on the rear I/O)
– 15μ Gold Contact in VGA PCIe Slot (PCIE1)

*Supports NVMe SSD as boot disks
Storage- 6 x SATA3 6.0 Gb/s Connectors*
– 2 x SATA3 6.0 Gb/s Connectors by ASMedia ASM1061* M2_2, SATA3_0 and SATA3_1 share lanes. If either one of them is in use, the others will be disabled.*
– 1 x Hyper M.2 Socket (M2_1), supports M Key type 2260/2280 M.2 PCI Express module up to Gen4x4 (64 Gb/s) (with 11th Gen Intel® Core™ Processors) or Gen3x4 (32 Gb/s) (with 10th Gen Intel® Core™ Processors)**
– 1 x Ultra M.2 Socket (M2_2), supports M Key type 2260/2280 M.2 SATA3 6.0 Gb/s module and M.2 PCI Express module up to Gen3 x4 (32 Gb/s)**
– 1 x Ultra M.2 Socket (M2_3), supports M Key type 2260/2280/22110 M.2 SATA3 6.0 Gb/s module and M.2 PCI Express module up to Gen3 x4 (32 Gb/s)**

*M2_3, SATA3_4, and SATA3_5 share lanes. If either one of them is in use, the others will be disabled.

**Supports Intel® Optane™ Technology
M2_1 supports Intel® Optane™ Technology only with 10th Gen Intel® Core™ Processors
Supports NVMe SSD as boot disks
Supports ASRock U.2 Kit
RAID- Supports RAID 0, RAID 1, RAID 5, and RAID 10 for SATA storage devices
– Supports RAID 0 and RAID 1 for M.2 NVMe storage devices*

*RAID function for PCIe mode SSD in M2_1 is only available with Intel® SSD installed (with 11th Gen Intel® Core™ Processors).
Connector- 1 x Power LED and Speaker Header
– 2 x RGB LED Headers*
– 2 x Addressable LED Headers**
– 1 x CPU Fan Connector (4-pin)***
– 1 x CPU/Water Pump Fan Connector (4-pin) (Smart Fan Speed Control)****
– 6 x Chassis/Water Pump Fan Connectors (4-pin) (Smart Fan Speed Control)*****
– 1 x 24 pin ATX Power Connector (Hi-Density Power Connector)
– 2 x 8 pin 12V Power Connectors (Hi-Density Power Connector)
– 1 x Front Panel Audio Connector (15μ Gold Audio Connector)
– 1 x Thunderbolt™ AIC Connector (5-pin) (Supports ASRock Thunderbolt™ 4 AIC Card)
– 2 x USB 2.0 Headers (Support 4 USB 2.0 ports) (Supports ESD Protection)******
– 2 x USB 3.2 Gen1 Headers (Support 4 USB 3.2 Gen1 ports) (ASMedia ASM1074 hub) (Supports ESD Protection)
– 1 x Front Panel Type C USB 3.2 Gen2x2 Header (20 Gb/s) (Supports ESD Protection)
– 1 x Dr. Debug with LED
– 1 x Power Button with LED
– 1 x Reset Button with LED
– 1 x Retry Button
– 1 x Safe Boot Button
– V-Probe™: 2 x 5-set of onboard voltage measurement points laid
– Rapid OC Buttons: +/- buttons to adjust OC frequency
– 1 x PCIe ON/OFF Switch
– 1 x Post Status Checker (PSC)
– 1 x Slow Mode Switch
– 1 x LN2 Mode Switch
– 1 x NickShih's OC Profile 1 Button with LED
– 1 x NickShih's OC Profile 2 Button with LED
– 1 x NickShih's OC Profile 3 Button with LED

*Support in total up to 12V/3A, 36W LED Strip

**Support in total up to 5V/3A, 15W LED Strip

***The CPU Fan Connector supports the CPU fan of maximum 1A (12W) fan power.

****CPU_FAN2/WP_3A supports the water cooler fan of maximum 3A (36W) fan power.

*****The Chassis/Water Pump Fan supports the water cooler fan of maximum 2A (24W) fan power.
CPU_FAN2/WP_3A, CHA_FAN1/WP, CHA_FAN2/WP, CHA_FAN3/WP, CHA_FAN4/WP, CHA_FAN5/WP, and CHA_FAN6/WP can auto-detect if 3-pin or 4-pin fan is in use.

******USB_1 is from ASMedia ASM1074 hub; USB_234 are Intel® Z590.
Rear Panel I/O- 2 x Antenna Ports
– 1 x PS/2 Keyboard Port
– 1 x PS/2 Mouse Port
– 1 x Optical SPDIF Out Port
– 3 x USB 3.2 Gen2 Type-A Ports (10 Gb/s) (ReDriver) (Supports ESD Protection)*
– 1 x USB 3.2 Gen2 Type-C Port (10 Gb/s) (ReDriver) (Supports ESD Protection)*
– 4 x USB 3.2 Gen1 Type-A Ports (Supports ESD Protection)*
– 2 x RJ-45 LAN Ports with LED (ACT/LINK LED and SPEED LED)
– 1 x BIOS Flashback Button
– 1 x BIOS Selection Switch
– 1 x Clear CMOS Button
– HD Audio Jacks: Rear Speaker / Central / Bass / Line in / Front Speaker / Microphone (Gold Audio Jacks with LED)

*USB3_1 is from Intel® Z590; USB3_234 are from ASMedia ASM1074 hub.
Ultra USB Power is supported on the USB3_234 port.
ACPI wake-up function is not supported on the USB3_234 port.

**This motherboard does not support integrated graphics.
Software and UEFISoftware
– ASRock Motherboard Utility (Formula Drive)
– ASRock Polychrome SYNC*
UEFI
– ASRock EZ Mode
– ASRock Full HD UEFI
– ASRock My Favorites in UEFI
– ASRock NickShih's OC Profile
– ASRock Instant Flash
– ASRock Internet Flash
– ASRock Easy RAID Installer

*These utilities can be downloaded from ASRock Live Update & APP Shop.
Support CD- Drivers, Utilities, AntiVirus Software (Trial Version), Google Chrome Browser and Toolbar
Accessories- Quick Installation Guide, Support CD
– 4 x SATA Data Cables
– 2 x ASRock WiFi 2.4/5/6 GHz Antennas
– 1 x ASRock Screwdriver
– 3 x Screws for M.2 Sockets
– 3 x Standoffs for M.2 Sockets
Hardware Monitor- Fan Tachometer: CPU, CPU/Water Pump, Chassis/Water Pump Fans
– Quiet Fan (Auto adjust the chassis fan speed by CPU temperature): CPU, CPU/Water Pump, Chassis/Water Pump Fans
– Fan Multi-Speed Control: CPU, CPU/Water Pump, Chassis/Water Pump Fans
– Voltage monitoring: +12V, +5V, +3.3V, CPU Vcore, VCCM, VPPM, VCCSA, CPU PLL, VCC PLL, STANDBY1, STANDBY2, STANDBY3, VCCIO, VCCIOMEM, VCCIN AUX Voltage
– 1 x Status OLED
Form Factor- EATX Form Factor: 12.0-in x 10.5-in, 30.5 cm x 26.7 cm
– 12 Layer PCB
– 2oz Copper PCB
OS- Microsoft® Windows® 10 64-bit
Certifications- FCC, CE
– ErP/EuP ready (ErP/EuP ready power supply is required)
Source ASRock Newsroom